Please submit stories and articles of general interest by or about you or other Wharton alumni of professional or personal interest to emeritussociety@wharton.upenn.edu.
In Memory of Jack Smith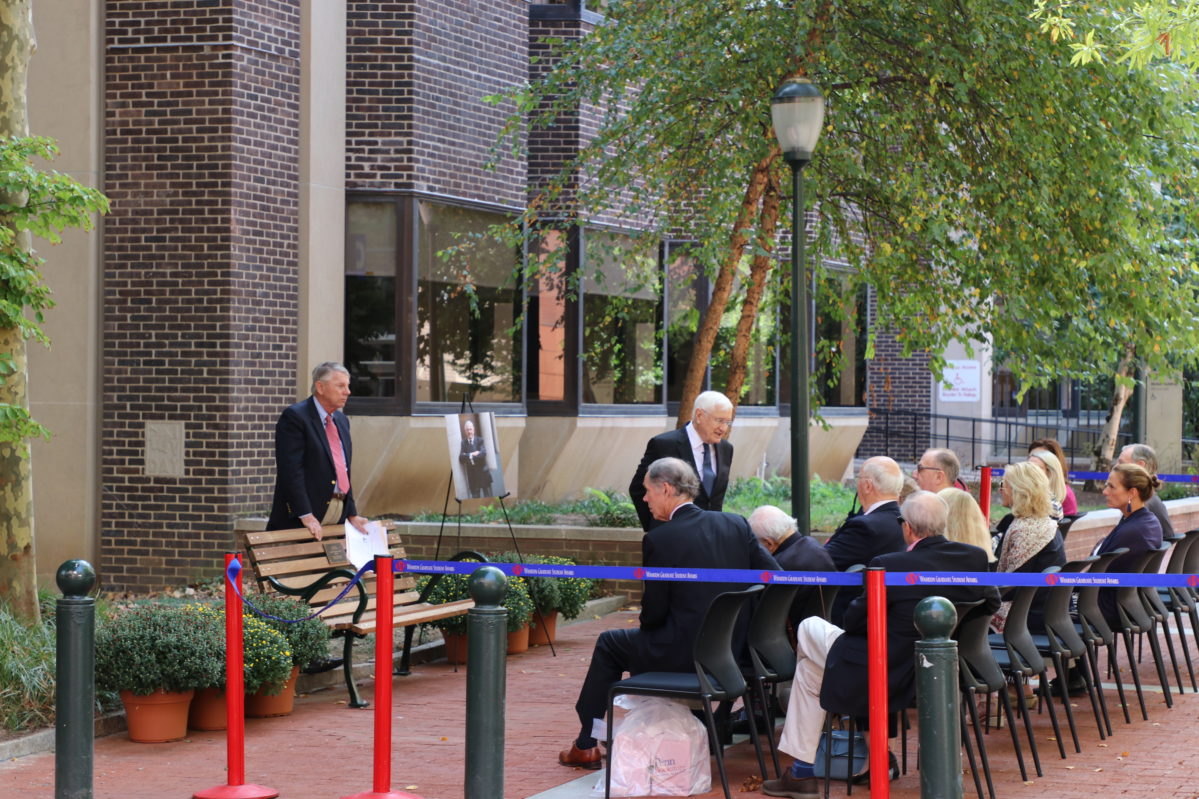 A lovely dedication to the late Jack Smith — our WGES founder and Wharton undergraduate and MBA alumnus — took place on September 20 on Penn's campus. The dedication took place across Huntsman Hall on Locust Walk, where a new park bench with an inscribed plaque was installed. A photo of Jack added a warm touch to the dedication. The bench and plaque were made possible through the generous contributions of WGES Steering Committee Members, the Smith family, and friends.
The memorial occurred on a beautiful day. Comments came from steering committee members Kevin Woelflein and Carl Schaifer; Jack Smith's son, Ford Smith; the Wharton School's Beth Morris and Helen Formanes; and led by WGES Chair Tom Hadlock. In addition to Ford, the Smith children were represented by Gere McKenna, Ashley Smith with spouse Jack Holton, and Field Smith and his wife Mary. Lizann Rode from Penn's Office of the University Secretary was also a special guest. After the memorial service, the group had an excellent lunch at the nearby White Dog Café.
It was truly an outstanding day full of pride for the dedication and our ability to honor the life of Jack Smith.
A Knighted Wharton MBA – One of the Most Distinguished Almost WGES Member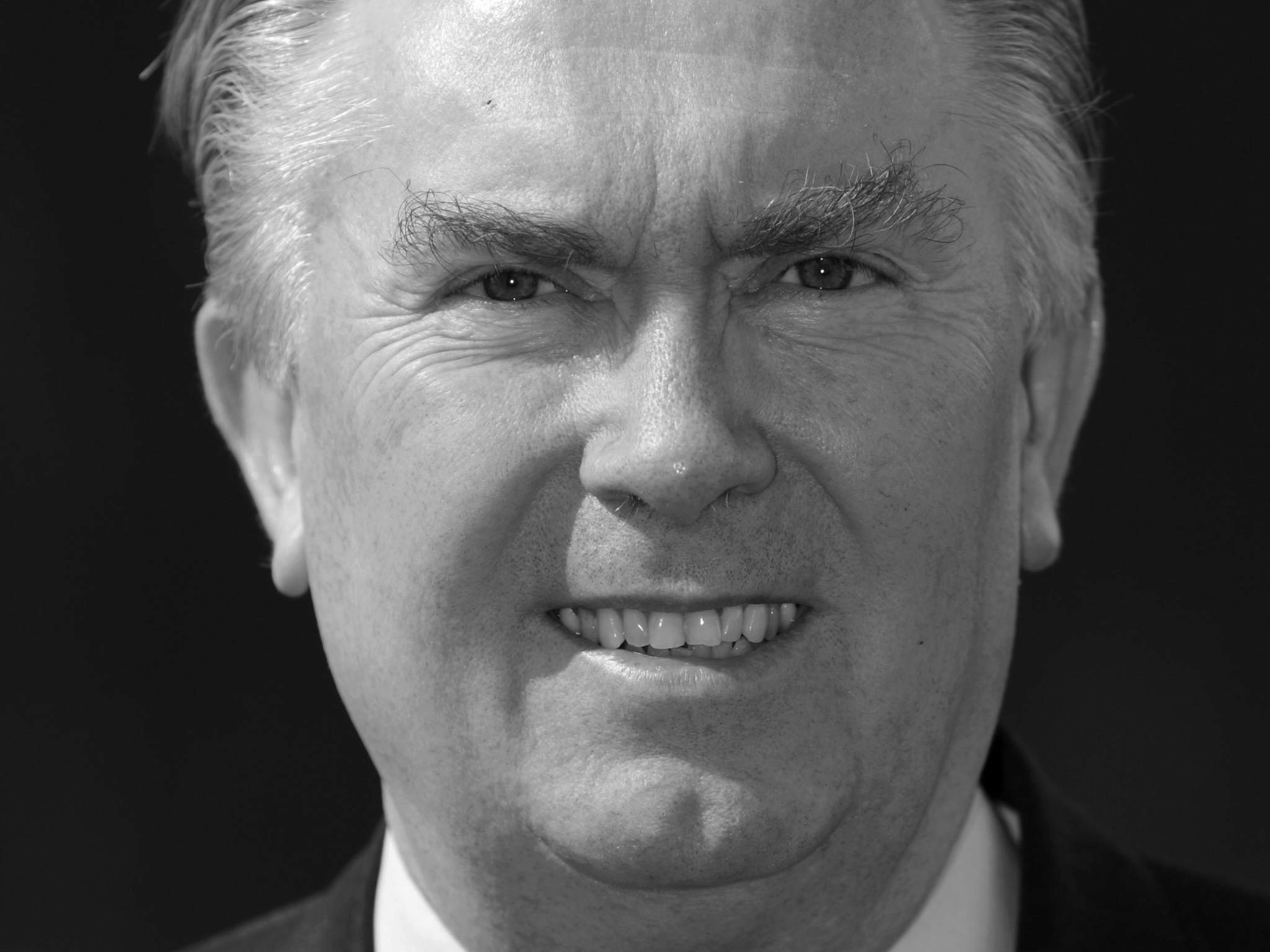 The Wharton Graduate Class of 1974 will celebrated their 45th class reunion next May 2019, at which time they will become members of the Wharton Graduate Emeritus Society (WGES). One of their most famous members — Sir Paul Judge  will not be there  — he passed away in May 2017.  He was perhaps the only Wharton graduate who has been knighted.
After a very successful career at Cadbury Schweppes, Sir Judge became the Director General of the United Kingdom's Conservative party and a Ministerial Advisor to Great Britain's Cabinet Office.
Sir Judge graduated from Cambridge University where he subsequently funded the creation of the Judge Institute of Management and Business School. Even though he has passed away, it would most likely be appropriate to induct Sir Judge as an honorary member of WGES, to note his distinction of being the only knighted member of the Wharton Graduate Emeritus Society.
Crandall Challenge Submissions:  2016 – 2017
The following were the submissions by WGES members for the Crandall Challenge Citation for the 2016 – 2017 year:
Charles Decker, WG'65: established a Foundation to support orphanages and children's activity centers in the Dominican Republic where he lives part of the year and is directly involved in these efforts
Harold Kurfehs, WG'64: devotes his professional expertise to stimulate economic and community development in the rapid growing Southwestern Connecticut region
Avrum Marks, WG'58: volunteers in a number of DC area organizations including the Smithsonian's American History Museum, Wolf Trap Farm Park, and Dulles International Airport
Jerome Peck, WG'68: became a Science Teacher in Seneca Ridge Middle School in Sterling, VA
Jerry Rothstein, WG'65: devotes his time and efforts in a number of greater New York non-profits such as the American Red Cross, the United Jewish Appeal, and the National School Climate Center.  He is also active with PennPac which is a pro bono alumni consulting organization
William G. Staton, WG'71: teaches basic personal finance to male and female inmates in the Charlotte-Mecklenburg County (NC) jail.  The focus is on the basics of securing a job and how to launch a small business.
Mike Wallace, WG'64: created a non-profit to help educate Laotian children, fund scholarships for students to the Laos-American college, mentors graduates and encourages would-be entrepreneurs to develop small businesses.  Mike lives in Laos most of the year where he is active in the projects and programs he initiates
Harvey Jay Zukerman, WG'63: serves as a docent for students and adults at the Getty Center in Los Angeles
Congratulations to all of the above who participated in the Crandall Challenge Citation for the past year.  Since most WGES alumni are also actively involved in their community projects, we encourage them to participate in next year's Challenge when it is announced in the the Fall of 2017.
Bob Natiello, WG'56, one of WGES' Founders, received an award from the Arizona Writers Association for his short story "Aunt Gussie and the Enemy Within."  This story will appear in the 2017 edition of the Arizona Literary Magazine.
2017 Crandall Challenge Citations: 
At the May 13, 2017 WGES Reunion Luncheon, the Emeritus Society steering committee will recognize their initial Crandall Challenge alumni recipients.  Kevin Woelflein, WG'58, co-chair of the Crandall Challenge Committee, will present the citations to those chosen for the recognition.  The Crandall Challenge Citation will be a yearly event following  a period of review of potential recipients who have been nominated for the recognition.  It is an attempt to acknowledge the vast ways in which WGES members remain actively involved in their professional and personal communities.
Here are some wonderful alumni resources offered by the Wharton School:
WGES Facebook:
The Wharton Graduate Emeritus Society (WGES) now has its own Facebook group, which gives you ready access to WGES events, information, and photographs. You must have a Facebook account in order to join.  Our WGES steering committee member and administrator of the WGES Facebook page, Rick Perkins, WG'70, will be happy to help you.  You can reach him at raperk1@gmail.com