Please submit stories and articles of general interest by or about you or other Wharton alumni of professional or personal interest to emeritussociety@wharton.upenn.edu.
What a Difference 50 Years Make
The 100th #WhartonMBA class has already broken records with over 50% women.
Compare that with the Class Notes that Rick Perkins, the WG'70 Class Correspondent, highlighted for his class in the Spring/Summer 2021 Issue of Wharton Magazine. On pages 74 – 75 of the most recent issue of the Wharton Magazine you can read career summaries of 9 of the 13 women in the otherwise male WG'70 class.
These nine include:

Caren Byrd Borland
Maryfrances Davis
Myrna DeJesus
Marci Fava
Colliie Hutter
Pst Brautigan Ireland
Shala Kaussari-Dick
Margarita Koennecke
Mary Ellen McGown Overbay
These WGES members should be recognized as pioneers 50 years ago
WGES 2022 Crandall Challenge
Planning is already underway for the 2022 Crandall Challenge Citations program.
Crandall Citations are awarded to recognize WGES members who have best met the Challenge put forward by Bob Crandall, WG'60 and past Chairman of American Airlines. Past your retirement or past your 45th anniversary of graduation from Wharton Graduate, continue to be relevant, continue to lead, and continue to address societal problems and opportunities in a not for profit mode so that we leave this world a better place because of our activities.
The Crandall Challenge Honor Roll on the WGES website recognizes additional WGES members who have similarly continued to use the exemplary education they received at Wharton Graduate and whose activities can serve to inspire other Emeritus MBA's to initiate their own good works.
We have a multi-pronged effort to reach Emeritus MBA's with information on the program and the Submission Form to be filled out and forwarded to the Emeritus Society.
The Fall/Winter issue of Wharton Magazine will have an article highlighting the Crandall Challenge Citation program.
An E-blast will be emailed to all Emeritus Society members in early January with the Submission Form attached. The Form must be returned by March 31 as indicated on the Form.
Class correspondents for each Emeritus class will ask for Submissions as well as updates on individuals for the Wharton Magazine Spring issue.
Wharton Clubs in the USA and overseas will be contacted by WGES Leadership Committee members and provided with Submission Forms and explanatory material.
After the March 31 Submission deadline, the hard work begins. The Crandall Challenge Committee reviews each Submission and conducts research. Spirited discussion occurs among the members. Weeks are spent going thru the many worthy Submissions. The breadth and scope of involvement of Wharton Emeritus MBA's in society becomes evident.
During April the recipients of the 2022 Crandall Challenge Citations will be contacted and invited to come to Philadelphia for Reunion in May to receive their Citations.
Submissions from Citation recipients and Honor Roll Submissions are placed on the Emeritus Society website so that viewers may scroll thru the activities of those so honored and be inspired to begin their own good works.
Feel free to contact the Wharton Graduate Emeritus Society at emeritussociety@wharton.upenn.edu to update your email and mailing address to ensure that you receive updates from the Emeritus Society.
In Memory of Jack Smith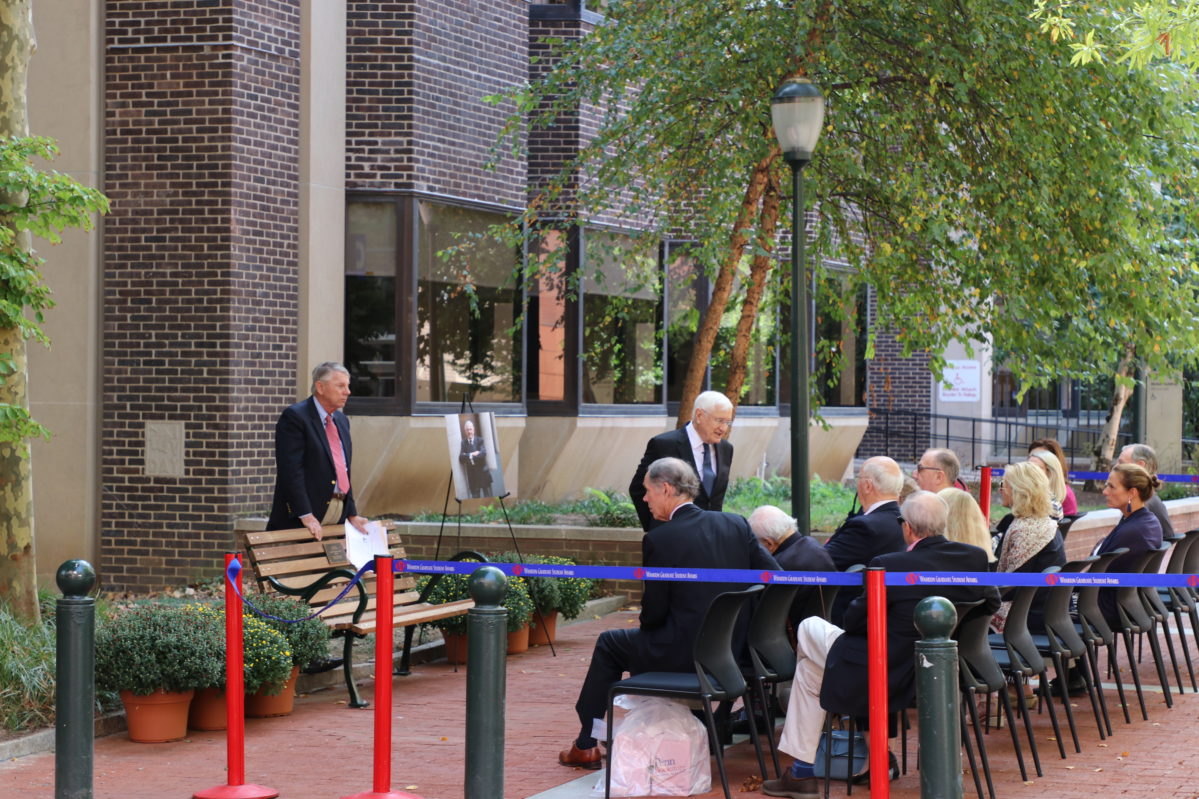 A lovely dedication to the late Jack Smith — our WGES founder and Wharton undergraduate and MBA alumnus — took place on September 20 on Penn's campus. The dedication took place across Huntsman Hall on Locust Walk, where a new park bench with an inscribed plaque was installed. A photo of Jack added a warm touch to the dedication. The bench and plaque were made possible through the generous contributions of WGES Steering Committee Members, the Smith family, and friends.
The memorial occurred on a beautiful day. Comments came from steering committee members Kevin Woelflein and Carl Schaifer; Jack Smith's son, Ford Smith; the Wharton School's Beth Morris and Helen Formanes; and led by WGES Chair Tom Hadlock. In addition to Ford, the Smith children were represented by Gere McKenna, Ashley Smith with spouse Jack Holton, and Field Smith and his wife Mary. Lizann Rode from Penn's Office of the University Secretary was also a special guest. After the memorial service, the group had an excellent lunch at the nearby White Dog Café.
It was truly an outstanding day full of pride for the dedication and our ability to honor the life of Jack Smith.
Bob Natiello, WG'56, one of WGES' Founders, received an award from the Arizona Writers Association for his short story "Aunt Gussie and the Enemy Within."  This story will appear in the 2017 edition of the Arizona Literary Magazine.