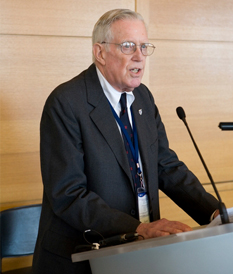 After Wharton, I joined Smith Kline & French Laboratories as a management trainee. I retired twenty-nine years later. Initially I did the usual trainee drone work, but also did some systems design and computer programming. Yes, we had chads back then, hanging or otherwise. Later I held a number of management positions on our diagnostic and pharmaceutical operations: president of SmithKline Clinical Laboratories; president of SmithKline Instrument Company; vice president Planning and Business Development for global pharmaceuticals; vice president Corporate Planning Japan and China.
After I retired form SmithKline, I joined Fujisawa Pharmaceutical Corporation (number two pharmaceutical company in Japan) as President and CEO of their pharmaceutical business in the U.S. I retired for a second time several years later.
I am delighted to be back at Wharton with the Emeritus Society. I started my alumni activities nearly fifty years ago as President of the Wharton Graduate Alumni Association.