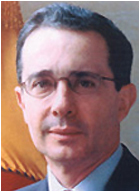 2009
ÁLVARO URIBE VÉLEZ
President
Republic of Colombia
Álvaro Uribe holds a degree in law from the Universidad de Antioquia and a post-graduate degree in Management and Administration from Harvard University. After receiving the Simon Bolivar fellowship from the British Council in Bogota, he served as an associate professor at Oxford University from 1998 to 1999.
Uribe entered public service at a very young age. In 1976, he became head of the Real Estate Office of the Public Works Department of Medellin, his native city. From 1977 to 1978, he was Secretary General of the Labor Ministry; from 1980 to 1982, he was head of the Civil Aviation Department. In 1982, he was elected mayor of Medellin, and from 1984 to 1986, he served as city councillor.
Uribe was governor of the department of Antioquia from 1995 to 1997, during which he developed a model of community participation in key government decisions, such as the creation of new jobs, education, public procurement, and security, which he called Community State.
During his term as governor, Uribe created such savings in government that 103,000 new students were provided with schooling. He also devised a program by which 40,000 people received training in the peaceful negotiation of conflict.
He was elected Senator in 1986 and again in 1990, during which times he received the Star Senator, Senator with the Best Programs, and Best Senator awards.
In 2002, he was elected President of Colombia, with the conviction that the country needs to be governed with moral authority and a strong sense of leadership. The most popular president in Colombia's history, he was reelected in 2006 - the first Colombian president in over a century to be consecutively reelected.
Under his leadership, Colombia has not only stabilized but has flourished. He has made dramatic improvements to the security climate, while strengthening the country's democracy. Colombia has experienced ongoing economic expansion, with increased foreign investment and investor confidence. In addition, Uribe has demonstrated firm commitments to social responsibility and social cohesion and has increased access to education and healthcare.
Uribe has been recognized internationally for his dedication to democracy and human rights. In 2007, he received the American Jewish Committee's "Light Unto the Nations" Award. In 2009, he was awarded the U.S. Presidential Medal of Freedom by George W. Bush.