WGES LUNCHEON AND BROADWAY SHOW, NEW YORK: NOVEMBER 2015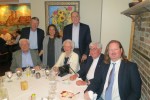 Members Photo Gallery
We want your photos from your Wharton MBA years all the way to the present!  Please send your digital photos (in jpeg format), with your name, class year, and a brief description of your photo to emeritussociety@wharton.upenn.edu to add to the Members Photo Gallery.
Click on the photo in this gallery for the description.
It will definitely be worth it to spend 10 minutes looking at Professor Mauro Guillén's presentation on "Global Turning Points" from the 2015 May Reunion luncheon. Not only will it be interesting, you will also learn some valuable information for your own future financial planning.
If you want to take in the full presentation by Professor Guillen at the May 2015 Reunion luncheon, you can watch it in the following video.