Wharton Graduate Emeritus Society
The Wharton Graduate Emeritus Society (WGES)  is the distinguished and active group of Wharton MBA alumni who graduated from the School more than forty-five years ago.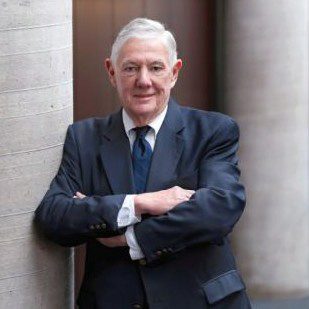 John F. "Jack" Smith, W'51, WG'52
Our Founder and Great Friend, Leaves Us at 88
By Thomas Vincent, WG'56
When attending a Wharton MBA Reunion between 1998 and 2002, you would undoubtedly find Jack Smith meeting informally with the 50 Year Class. He loved a good time, but also had something on his mind — spreading the word about the "tea" principle. His focus: MBAs 50 years out have acquired so much talent, experience, and accomplishment, it's a terrible waste to put them "out to pasture." Both Wharton and Senior Alumni could benefit by creating a vehicle to increase contact and turn closer relationships into good works. Thanks to Jack, the result was the Wharton Graduate Emeritus Society, established in the fall of 2003.
He put it together for us and now, unfortunately, we must carry on without him. Jack passed away on April 4. His wonderful wife of 61 years, Mercedes, predeceased him. Jack leaves six children, 14 grandchildren and three great-grandchildren. And carry on they will. As the youngest of four brothers, the Smith family has always been extremely close and together.
After college, Jack was a U.S. Navy officer and touted military service as vital to education and training. After starting an executive search firm, he moved to Modern Group, Ltd. a materials-handling firm near Philadelphia, eventually becoming chairman of the board. After retirement, he continued to check in weekly. He found the task of turning a standard corporation into an ESOP both difficult and extremely rewarding.
When Bob Crandall issued his "geezer's crusade" invitation to improve public life in his 2010 luncheon address, Jack jumped on it. He believed Bob's call to action could be our flag bearer and get fellow alumni motivated. He was clairvoyant. Thus the Crandall Citation came about. From our beginning and on into the future, Jack is our partner. As long as WGES is here, he will be, too. Most suitably, at our May 12 luncheon, a Crandall Challenge Citation in his name was presented to his family.
Farewell, dear friend. We have all been infinitely enriched by your presence.
Contact Us
Wharton Graduate Emeritus Society
344 Vance Hall
3733 Spruce Street
Philadelphia, PA 19104
+1.215.573.1825
emeritussociety@wharton.upenn.edu
Join us on LinkedIn.
Wharton External Affairs
Helen Formanes
Associate Director, Alumni Relations
+1.215.573.1825
Monty Harris
Associate Director, Wharton Fund
+1.215.573.4920