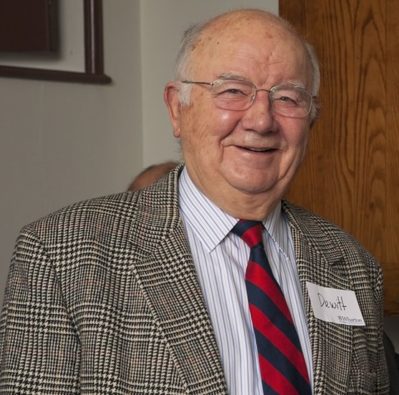 A New Jersey native, he grew up in Elizabeth, Westfield, and Lake Mohawk, attending Lincoln School, Sparta Grade School, Hamilton Junior High School, and Newton High School. He majored in Government at Tufts while on a NROTC Scholarship and participated in cross country and wrestling. He managed the 1951 New England Championships and a 3 meet tour to New York City. During his 3 years on active duty aboard destroyers, he was OOD Underway, OOD and CDO In Port, Head Engineering Officer, and Shore Bombardment Officer, serving in the Mediterranean and Korea. He majored in Industrial Management at Wharton and joined The Norton Company in Worcester as an industrial engineer in the new Industrial Ceramics Division where he was involved in 3 new plant projects, saving an insulating product, and revamping order processing. He became an engineering administrator at Raytheon concerned with the Polaris and Apollo programs. At Simmonds Precision Products, which made nearly all of the fuel management systems for anything leaving the earth's surface, he was Industrial Engineering Manager, Apollo Program Manager, and Controller. Returning to Norton he was Division Human Relations and Industrial Engineering Manager and served on several corporation bodies and wrote the Norton Plan.
In1972 he joined Burlington County College, a new institution, as Head of Business Studies, which grew to 29 programs, 26 faculty, and 200 adjuncts, serving the business world of the area. After 16 years, he became a full time professor, teaching 15 different courses from management and economics to TQM, labor management, accounting, technical writing, communications, and business math for 12 years.
He kept active in the Naval Reserve, being in several different units in MA, VT, RI, and NJ. He served as training officer for 2 Construction Battalion Units and Commanding Officer for a surface division and a research company. He organized a two week seminar at the Naval War College.
DeWitt married JoAnne (who died of cancer in 2006) shortly after earning his MBA . They raised six children and have eleven grandchildren spread out from NJ to Brazil, England, and Pennsylvania,  They are computer manager, corporate lawyer, management consultant, advertising executive, computer systems designer, and financial adviser.
His interests include traditional jazz, hosting concerts and jazz picnics, King Midget cars, and checker autos. He was founding president of Tri-State Jazz Society in the Philly area for 16 years, and a member and supporter of several other jazz societies.