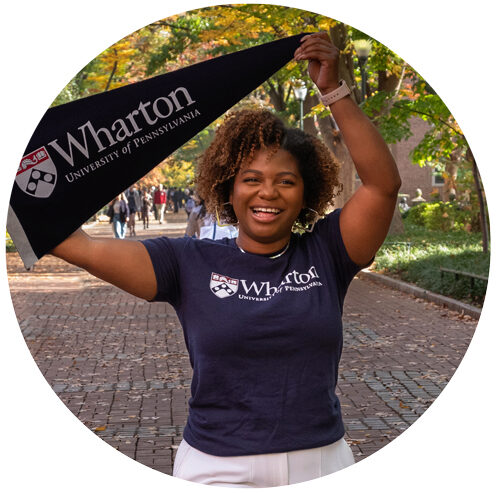 "You can have an impact on unique opportunities from diverse experiential learning to the McNulty Leadership Program. Wharton Fund-powered initiatives shape future leaders like me."
Tiffani Davis, WG'23


Wharton Alumni Fellow
Give Online
Wharton's Fiscal Year is July 1- June 30.
Give by Phone
Call The Wharton Fund at +1.215.898.7868
Give By Mail
Make checks payable to: "The Trustees of the University of Pennsylvania"
Please include your name (and your spouse's name if applicable), affiliation(s) and how to allocate your gift (ex. The Wharton Fund).
For USPS
Wharton External Affairs
Suite 500 FMC Tower
2929 Walnut Street
Philadelphia, PA 19104
For FedEx, UPS, and DHL Deliveries Only
Wharton External Affairs
Suite 300 FMC Tower
2929 Walnut Street
Philadelphia, PA 19104
Gifts of Cash
Cash gifts can be made by check or charged to a credit card.
Charitable gifts of cash are deductible up to 60% of the donor's adjusted gross income in the year of the gift with any balance carried forward up to five more years. In valuing any charitable gift for tax purposes, the donor must reduce the gift amount by the fair market value of any goods or services received from the charity.
Wharton's Fiscal Year is July 1- June 30.
Donor-Advised Funds or Private Foundations
Recommend or direct gifts through donor-advised funds or private foundations.
Penn's Tax ID/EIN is 23-1352685
Make donations payable to "The Trustees of the University of Pennsylvania"
Designate gift to The Wharton Fund.
Bank Wires
Send your gift via a bank wire to:
Wells Fargo Bank N.A.
420 Montgomery Street
San Francisco, CA 94104
Account Name: The Trustees of the University of Pennsylvania – Gifts Accounting
Account# 2000030009956
Reference: Name and Affiliation (example: Susan Lee, WG'99)
For Domestic Wires and ACH's
ABA Routing #: 121-000-248
For International Wires Only
SWIFT CODE: WFBIUS6S
CHIPS: 0407
Appreciated Securities
The transfer of stock from a donor to Wharton is a fairly simple transaction. Morgan Stanley serves as the University's main brokerage firm. You will need to work directly with your broker to complete a transfer form and initiate a transfer of stock to the University of Pennsylvania. If you hold the certificate, it is best if those certificates remain unendorsed and you complete a separate stock power form authorizing transfer of ownership from the donor to Wharton.
Charitable Gifts Through Your IRA
The Protecting Americans from Tax Hikes Act of 2015, has extended the IRA Charitable Rollover permanently. The extension allows individuals age 70½ and older to donate up to $100,000 from their IRAs to The Wharton School tax-free. You do not receive an income tax charitable deduction. This provision allows you to transfer money from your IRA directly to Wharton, without having to recognize the transfer as taxable income. You should consult with your tax advisors about your specific situations.
The sample letter can be used to send to your IRA plan provider.
Matching Gifts
Don't miss the unique opportunity to increase the impact of your giving through a matching gift program. To find out if your employer participates and learn more about how to apply a match to your Wharton Fund gift, visit Penn's matching gifts database. Most matching gifts are made by companies employing Wharton alumni, including:
Apple

Deloitte

Google

Johnson & Johnson Corporation

Microsoft

PricewaterhouseCoopers

Goldman Sachs

Visa

And many more
For more information concerning the Matching Gifts Program, you can call +1.215.898.5069 or contact devgifts@dev.upenn.edu.
Giving From Outside The US
If you live outside the United States and are considering a gift to Wharton, please visit Penn's Giving from Outside the U.S. website. If you are a taxpayer in one of the following areas, please visit our country-specific giving pages before making your gift as your contribution may qualify for tax benefits in your home country.
Planned Gifts
Planned gifts can be made through bequests, unitrusts, life insurance, pooled income funds, and real estate. If you are interested in learning more about planned giving opportunities, call +1.215.898.6171 or click on the link below.
Need Further Assistance In Making Your Gift?