A view into Tangen Hall, currently under construction at 40th and Sansom Streets in Philadelphia, hints at the innovative and in some cases life-changing ideas that will spring forth when its doors open in fall of 2020. This unification of two campaign priorities — entrepreneurship and a 21st-century campus — will grant incredible resources to the already-ambitious and innovative students from across Penn.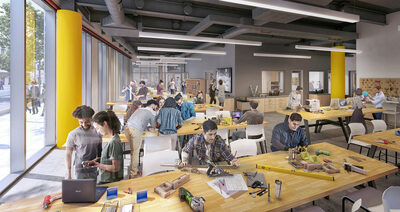 Maker Spaces
With state-of-the-art technologies, ample workspace, and tools to craft prototypes, maker spaces kick start design and development of new products, like the motion-sensing switch that won the 2019 President's Innovation Prize at Penn (see below).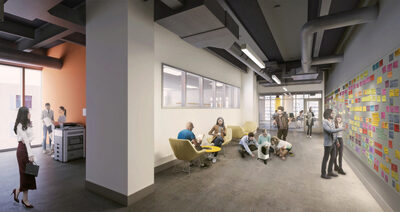 Pin-Up Lounges
Student teams can come together in pin-up lounges to plan out stages of a complex project, dive into data to solve a problem like the need for emergency texting (see below), and develop business plans to scale operations.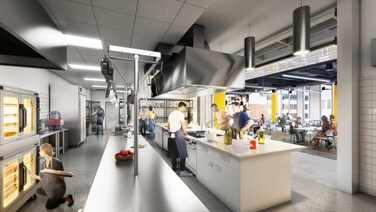 Test Kitchen
A fully stocked test kitchen will allow students to stay ahead of consumer tastes and experiment with innovations in food packaging, storage, and delivery.
These resources will redefine the possibilities of entrepreneurial thinking for students at Wharton and Penn — students like Kirti Shenoy and Michael Wong, whose ideas have already been recognized for their positive impact on safety and the environment.
Big idea: The ability to text 911
Who: Kirti Shenoy, W'21, and Anthony Scarpone-Lambert, NU'21, GR'24
What: Text-911 is a nonprofit that aims to bring emergency texting to every county in the U.S.
When: Shenoy was an intern at a resource center for people with hearing issues when she realized that most Americans are only able to call, not text, emergency services when they are in distress.
Why: To increase access to this service for people who need it, as well as provide a safer option than calling in certain emergency situations — like violent domestic disputes or mass shootings.
The impact: Shenoy and Scarpone-Lambert are piloting a project to bring emergency texting to all of Pennsylvania's 67 counties. For their work, they were awarded the Social Impact Award from thePenn Wharton Entrepreneurship Startup Challenge.
Big idea: Green and easy lighting sensors
Who: Michael Wong, W'19, and doctoral student Dayo Adewole, ENG'15, GEN'15, GR'21
What: InstaHub, an easy-to-install, motion-sensing light switch that collects data via machine learning to improve energy conservation.
When: The prevalence of continuously running electricity on campus compelled Wong to survey student perceptions of power usage and work with Wharton Operations to build models of the product.
The impact: InstaHub is being beta-tested in offices across Penn's campus; Wong was awarded the prestigious $150,000 President's Innovation Prize in April 2019.
Read more about Kirti Shenoy or Michael Wong in Penn Today.