The enduring impact of providing financial support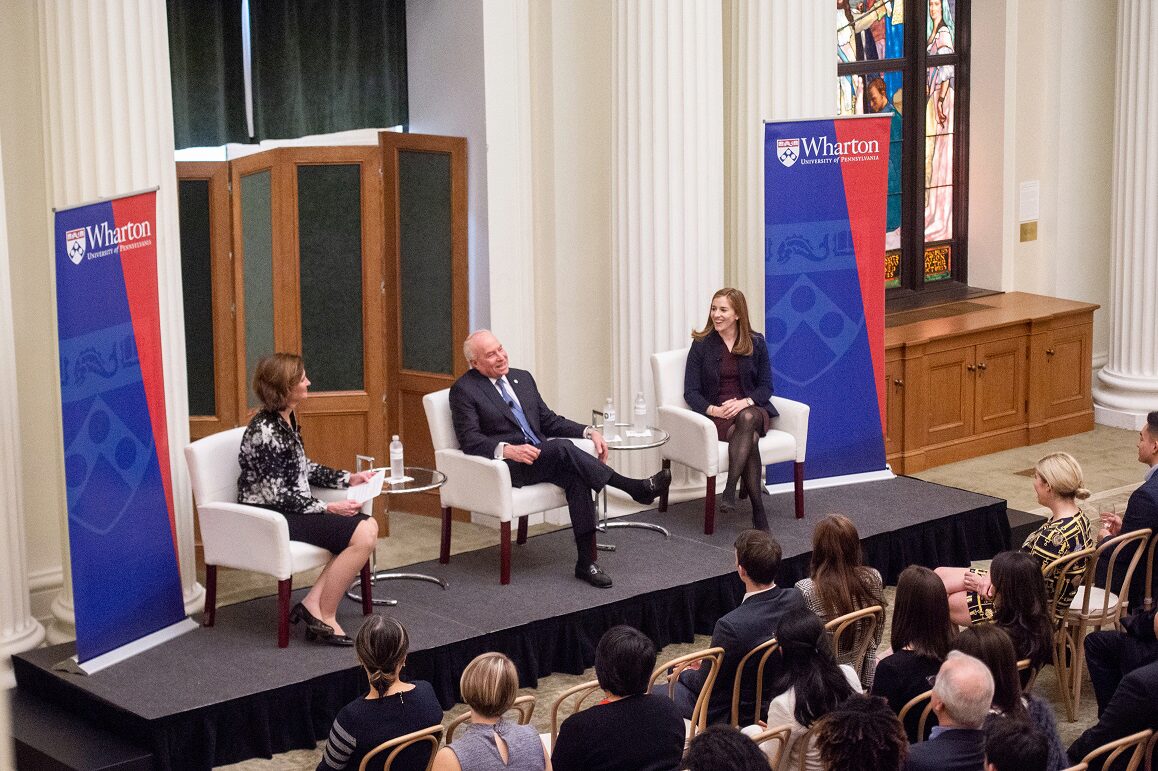 At the recent MBA Fellowship Celebration in New York, Wharton graduate students connected with donors, expressed their gratitude, and shared the impact of their support.
The event on February 25 brought more than 100 people together in celebration of Wharton fellowships and student experience funds, which enable graduate students to attend Wharton and pursue their passions based on their interests rather than financial constraints.
"The most rewarding part is to see young people have a chance at what I had and what my daughters had at Penn." – Andrew Saul, W'68
Attendees got a glimpse into the future for current fellowship recipients during an intimate fireside chat between a donor and a beneficiary:
Andrew M. Saul, W'68, the Commissioner of the Social Security Administration whose joint scholarship and fellowship fund has transformed more than 230 Wharton students' lives since it was established in 1985.
Kristen Paladino, WG'19, a Saul Fellow and an associate at The Blackstone Group who served in the U.S. Navy for nearly eight years.
The conversation was moderated by Maryellen Reilly, Deputy Vice Dean of the MBA program. Wharton Dean Geoff Garrett delivered opening remarks.
Saul, along with his wife Denise, established the Andrew and Denise Saul Scholarship and Fellowship, which supports both undergraduate and MBA students at Wharton.
"The most rewarding part is to see young people have a chance at what I had and what my daughters had at Penn," said Saul, who is also a proud Penn parent.
Paladino stressed the value of the Saul Fellowship as a financial buttress that empowered her not only to venture into a field in which her outcome was unknown, but also alleviated the pressure to choose a career based on the salary needed to overcome student debt.
Donors who contribute to student aid leave a lasting legacy at Wharton and create an impact that extends far beyond graduation. Donors and their recipients often enjoy a special bond — Saul said that after more than 30 years of fellowship support, his wife still corresponds regularly with the Saul Fellows and the couple looks forward to in-person meetings with them.
"It is wonderful to see them succeed like this. To follow along and see the career path of these bright young people is a really great thing," Saul said.