To mark International Women's Day, the More Than Ever Tour hosted a wide-ranging conversation on the transformative power of women's leadership in Rwanda — and how lessons learned in that country can be applied globally.
In 2003, the country's newly passed Constitution declared the country was committed to "equality between men and women" and decreed women should hold at least 30 percent of parliamentary seats.
Currently, a larger percentage of women (61 percent) serve in Rwanda's parliament — a greater number than any other country in the world. Rwandan women are leaders not only in government but in business and in all sectors of society and the economy.
It was not always this way. During the 1990s, Rwanda experienced a long civil war and the killing of its president in 1994. This unleashed 100 days of genocide against those who opposed rebel forces, and 800,000 people were slaughtered. Additionally, rape against the women of Rwanda was considered (and used as) a weapon of war.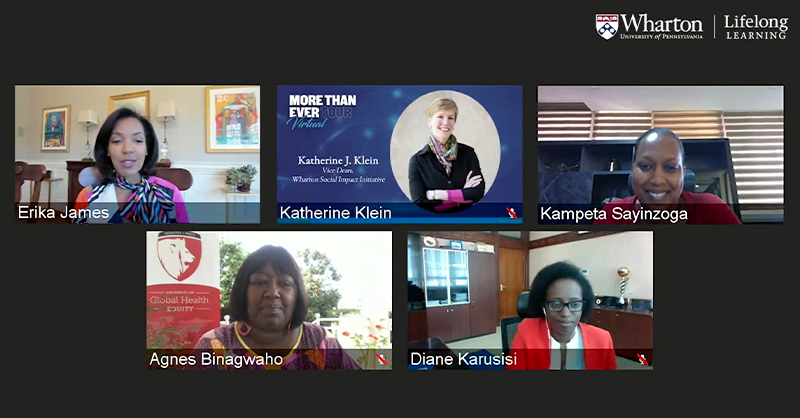 The More Than Ever Tour panel, convened by Dean Erika James and led by Vice Dean Katherine Klein of the Wharton Social Impact Initiative, included Dr. Agnes Binagwaho, vice chancellor of the University of Global Health Equity; Diane Karusisi, CEO of the Bank of Kigali; and Kampeta Sayinzoga, CEO of the Development Bank of Rwanda. They addressed the genocide; the COVID-19 pandemic; and the growth of Rwandan women in business.
Sayinzoga said until 1994, Rwanda had been among the least developed countries in the world but, since then, there has been profound change. "It was hard for women to participate in the liberation struggle," she said. "Rape was weaponized, and women bore a disproportionate burden at home." There was also a higher disease rate for women and a lack of opportunity for girls to go on to higher education.
But, she added, the government took a "bold approach" to gender development. And, because of the amount of loss and grief the country suffered, it was decided that forward movement would come by focusing on community healing, which Sayinzoga said was an important pillar in restoring Rwanda's civic growth.
Dr. Binagwaho, meanwhile, described how the country has been managing the COVID-19 crisis. "The population took responsibility with quarantine and other measures," she said. "And because of trust in health care and trust in the government, there has only been 300 deaths and a total of 19,000 cases." She said flexibility, adaptability, and organization have been key in managing the pandemic.
On the topic of finance, Karusisi spoke about leveling up gender equity in accessing banking services and said "positive change starts at the top." In spite of women and girls having more daily tasks like fetching water, and a high rate of teenage pregnancies, she believes the women of Rwanda are making progress. According to the World Bank, in Rwanda there are more women self-employed than men, and Karusisi added, that providing greater access to banking and "designing the right financial products" for women will further the strengthen the country.
The panel discussion was followed by a Q&A and closing remarks by Dr. Klein who said Rwanda remains a "complex and interesting country", but one that is now an example of female leadership.