From a life-saving app to a food delivery service with nearly a half billion in VC backing, keep an eye on these recent ventures with Wharton roots.
AlphaSense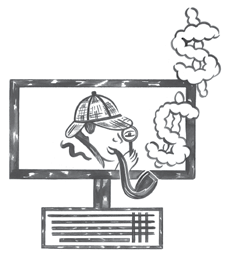 It began with a conversation in a Wharton classroom about a particular problem—the endless hours financial analysts spend combing through reports, filings, transcripts, and news in search of specific data. Now AlphaSense is simplifying the process with a search engine that draws from thousands of public and licensed sources to find those essential needle-in-haystack details for the company's client list of more than 500 and counting. Co-founded by CEO Jack Kokko WG08 and CTO Raj Neervannan WG08, AlphaSense scored $33 million in a funding round led by George Soros last year and was featured as one of Fast Company's "Most Innovative Companies."
Laugh.ly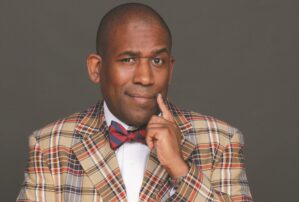 In performing for a year as a stand-up comic opening for stars like Tracy Morgan and Nick Cannon, Dave Scott WG98 saw both an appetite for comedy and a need to improve its accessibility. To provide fans with a comedy-specific streaming service and comics with a platform to spread their material, Scott developed Laugh.ly, "the Pandora of comedy." The free app features trending content, stand-up classics, and new releases, and makes it easy for users to find fresh acts. Scott and his team spent three years transcribing albums from hundreds of artists to create searchable content and thematic playlists. Visiting an in-law? Going through a breakup? Searching for something new? You can customize a stand-up playlist for that long drive—but listen while lifting heavy stuff at the gym at your own risk.
Full Harvest
We've all chuckled at those memes of naughty-looking potatoes, duck-billed eggplant, and carrots shaped like feet—but have you ever seen such characterful vegetables in the supermarket? Each year in the U.S., some 20 billion pounds of produce go to waste because they don't meet the perfectly straight or round or blemish-free ideal that grocery stores demand. B2B platform Full Harvest, founded by self-described serial social entrepreneur Christine Moseley WG11, helps farmers sell these imperfect crops. Moseley, who has 10 years of food- and logistics-industry experience, believes that aggregating the supply will help farmers boost revenue and let everyone benefit from more affordable healthy food.
Harper Wilde
MBA students Jane Fisher WG17 and Jenna Kerner WG17 bonded over their shared frustration with conventional bra shopping, with its embarrassing in-store fittings, pushy salespeople, and morass of expensive frills. After hearing the same complaints from hundreds of women, Fisher and Kerner confirmed their mission: to create beautiful, simple bras that people actually want, with a modest price point and home try-on to boot. And there's more to feel good about: With every bra purchased, Harper Wilde—named after empowered women authors Harper Lee and Laura Ingalls Wilder—will donate towards girls' education around the world.
POWTI Innovations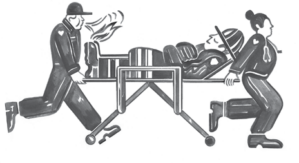 First responders like firefighters and military personnel don't just save lives, they put their own lives on the line in the process. Co-founder and COO Thomas Cavett G18 WG18—a former U.S. Army Green Beret and medic—created POWTI Innovationsto improve access to life-saving aid for individuals suffering trauma and injury in the line of duty. The Point of Wounding Trauma Indicator (POWTI) device detects injuries and then transmits the user's location to the nearest 911 dispatch or other preregistered location. With recent wins at the Lauder Pitch-It Competition and the Jacobson Global Venture Award, the company is on its way to saving lives.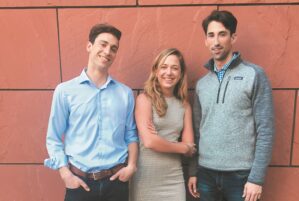 PolarNews
In this brave new world of fake news and algorithm-driven social media echo chambers, how do we know that our favorite news platforms—whether CNN, the Guardian, or Fox News—aren't just pandering to our views? Davis Filippell WG18 has a solution: read at least two sides of every story. He got together with policy analyst Matt Alexander G18 WG18 and PR executive Amelia Bell G18 WG18 to create PolarNews, a daily two-column email that presents contrasting perspectives on hot topics. Recent issues have covered President Trump's cabinet selections, Verizon's acquisition of Yahoo!, and Saturday Night Live's political slapstick.
Magic Instruments
Attention, frustrated guitar players—Brian Fan W92 feels your pain. The Juilliard-trained classical pianist wanted to learn the instrument so he could sing to his newborn daughter but spent a summer trying with little to show. The experience moved him to create the Magic Instruments rhythm guitar, which replaces strings with buttons and simplifies playing chords to pushing a single button. A companion mobile app offers a library of thousands of songs to learn; built-in effects and a speaker eliminate the need for amps or pedals. The 2016 Y Combinator venture even earned a celebrity endorsement: Matthew Bellamy, lead singer/guitarist of Grammy-winning rock band Muse, calls it "the ultimate shortcut" and a "great tool for songwriting."
RevoLOOtion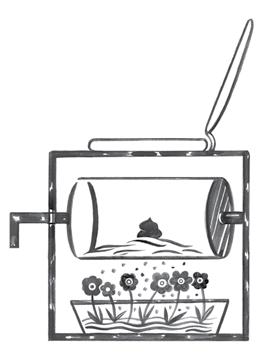 As company co-founder and CEO Nidhi Shah G17 WG17 is quick to point out, you can't have a discussion about poverty in India without mentioning toilets and hygiene. With roughly half of the country's 1.3 billion citizens lacking basic sewage and sanitation infrastructure, the toll on public health and economic productivity is profound. Enter RevoLOOtion, which provides affordable no-flush composting toilets for India's urban poor. The toilets essentially serve as septic tanks, and the collected waste can even be transformed into biogas fuel. The company is proving that bathroom talk is appreciated—RevoLOOtion was selected to participate in the Wharton Venture Initiation Program and recently won $10,000 through the Lauder Institute's Jacobson Global Venture Award, which supports promising entrepreneurial ventures.
ChargeItSpot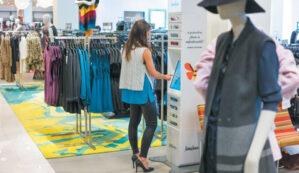 There is perhaps no greater scourge of 21st-century human existence than the dead cell-phone battery. To ease the pain, Doug Baldasare WG12 and his company, ChargeItSpot, have created charging stations for retailers to set up in their stores. Unlike traditional hookups, these stations ask users to fill out a quick survey about their shopping experience. It's a win-win: Patrons get their phones charged for free, while stores get extra foot traffic and deeper insight into their products, marketing, and customer experience. With more than 140 retailers already in the portfolio, ChargeItSpot has powered up more than two million phones to date.
Laguna Beach Textile Company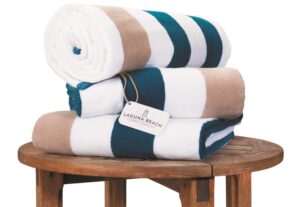 Danny Meurer WG17 got the idea for Laguna Beach Textile Companywhile spending a summer working as a cabana boy for one of Laguna Beach's premier hotels. He was impressed with the plush, colorful beach towels he handed out, which were thick and soft and yet, unlike most towels on the consumer market, could withstand hundreds of washes without wearing down. In 2015 he founded Laguna Beach Textile Company with the goal of turning those exclusive resort-quality wraps into affordable luxury beach and bath towels priced from $22.
Advans Health
As international students from Spain, Antonio Muñoz Villanueva G17 WG17 and his brother, Enrique, struggled to navigate the complicated and expensive U.S. health insurance marketplace. When they became insurance industry professionals—Antonio, a seasoned social entrepreneur, led the construction of a hospital and the management of a health care network in Cameroon—this particularly hurt. So they decided to streamline the way students purchase health insurance in this country with user-friendly plans targeted to their unique needs. While the Advans Healthplatform officially launches this summer—propelled by the Jacobson Venture Award—the brothers have already helped many Penn students save money and find the right health insurance fit.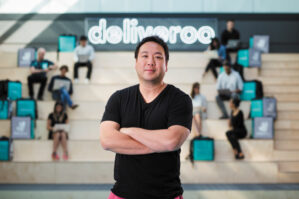 Deliveroo
While working as an investment banker in New York City, William Shu WG12 ended most long nights at the office enjoying a delivered meal with his co-workers. When he was transferred to London, Shu was surprised to find that 24-hour, high-quality grub delivery was practically nonexistent. That led him to co-found Deliveroo, a U.K.-based online food delivery service company that specializes in shipping meals from premium local restaurants, including some that don't otherwise offer takeout. The company—which earned $474 million in VC funding and got its footing in Professor Patrick Fitzgerald's Venture Implementation class—now operates in more than 130 cities across 12 countries and was named the Top MBA Startup for 2017 by Poets & Quants.
TrustCircle
When Sachin Chaudhry WG13 was a teenager in India, his then-12-year-old brother was diagnosed with a chronic mental health issue, and Chaudhry saw how the health-care system was broken—brief appointments with doctors and no guidance between visits left his family scrambling for help. That's why today, the CEO and co-founder of TrustCircle—a digital health startup designed to improve mental health care and reduce ER visits and hospital read missions—calls the business his
"life's calling." Individuals can use the technology to assess their mental health, and organizations can identify high-risk patients and provide community support to patients and caregivers. TrustCircle became the first mental health app in Africa, launched pilot programs in India, and is in talks to debut in the U.S.
SeenIt
Ever wonder where you could buy those cool kicks you saw somewhere in cyberspace? Ankita Sancheti W08, Vedanta Kumar W09, and Saksham Karwal C11 ENG11 are pioneering what they estimate is a $50 billion industry—guiding consumers from a "like" to a purchase. Their India-based startup, SeenIt, employs 12 designers and stylists who scavenge the Web for products based on user-uploaded photos, and then direct those users to retailers. The idea was born when Kumar and Karwal spent more than two hours trying to find a pair of sunglasses featured in a James Bond movie. Now the site is tracking the looks of Hollywood and Bollywood stars and has partnered with brands including Nike, Puma, and Moda Operandi.