Getting down to business with Harry's co-founder and Wharton alumnus Jeff Raider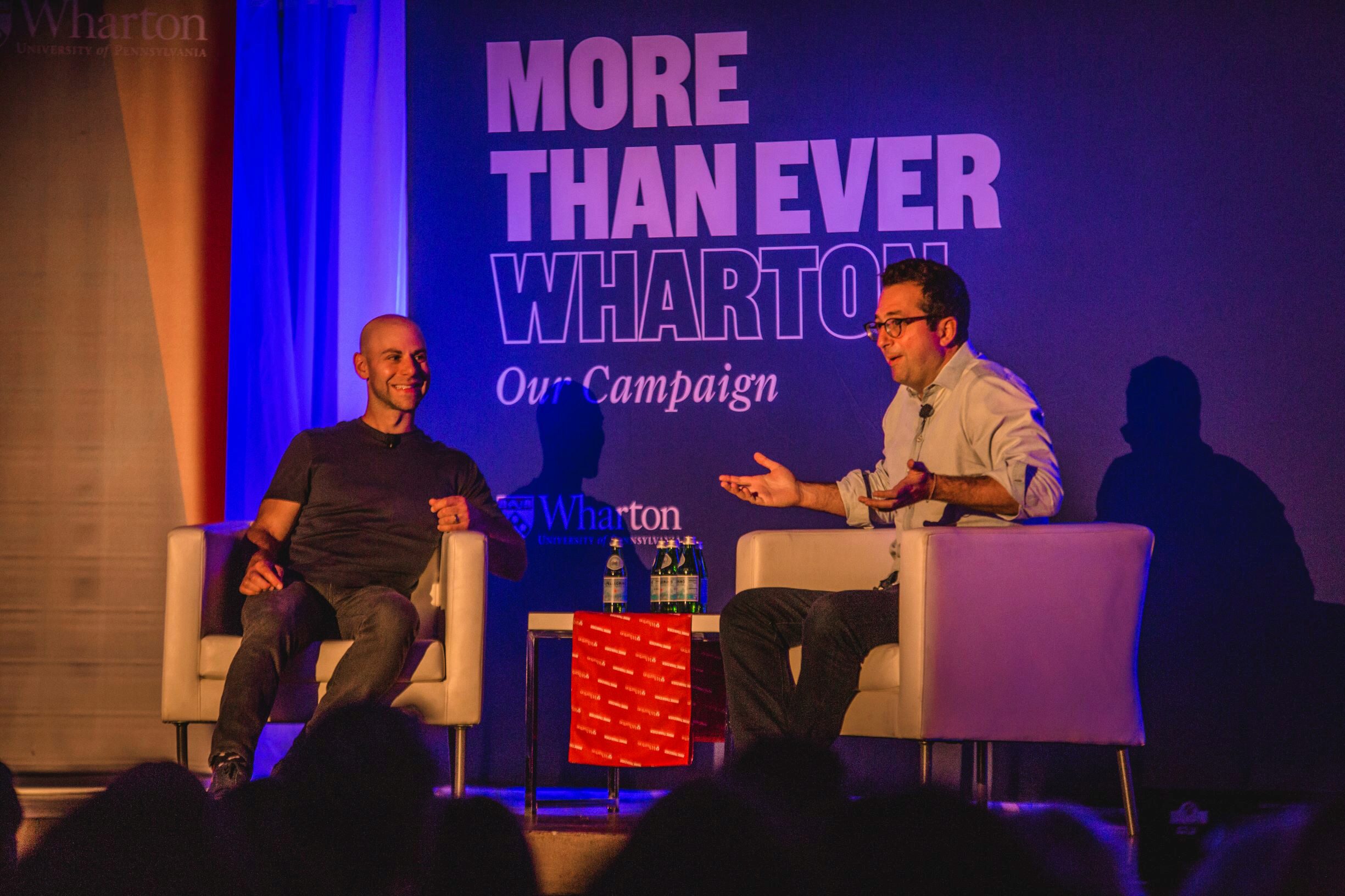 Jeff Raider, WG'10, co-founder of two powerful direct-to-consumer brands, joined Wharton Professor Adam Grant onstage for a conversation at the More Than Ever tour stop in New York.
Raider, co-founder of eyewear disruptor Warby Parker and shaving and grooming mammoth Harry's, relayed his experience of building positive work environments, the challenges of risk taking, and the benefits of pivoting away from problems.
He also spoke about ways leaders can make a difference. "I like to see leaders who can get in front of what people are talking about," he said. "How are issues impacting the workforce and impacting customers?"
This exchange with Grant led to a deep dive into the subject of masculinity and how part of Harry's social impact mission is committed to educating men on healthy, respectful manhood.
Raider said Harry's is taking steps to find direct ways to talk about big topics like mental health, suicide rates among men, vulnerability, connectivity, and more. "In a polarized world, people are asking brands to take a stand."
He added, "I like to say, 'embrace the ands.' I can be a mentor at work AND a dad at home. I embrace both sides of myself and this goes to the core of men allowing themselves to be more than one thing."
But when Grant brought up the topic of work-life balance, there was laughter—soon followed by applause. Grant, who said both men have three children, asked Raider, "How do you do it all?"
"Life is the thing I get to schedule. Work is something I fit around life." – Jeff Raider
"Time is super valuable," Raider said, explaining that keeping his work life and his family life fluid helps both priorities coexist. As true as this is for him, Raider also helps create this balance for Harry's employees. In 2017, Harry's introduced a gender-neutral policy of 16 weeks paid leave for new parents. "I'm trying to do better for our team," Raider said.
Some of Raider's personal work-life balancing act includes putting his phone down as much as is realistically possible and ensuring that when he is with his family, his focus is on them. "Life is the thing I get to schedule. Work is something I fit around life," he said.
In wrapping up the conversation, Grant asked Raider to share one lesson that Raider has not quite learned. "Slow down," he said. "Get to the Promised Land, but take two minutes to bring everyone with you."
The event was a celebration of Wharton's campaign More Than Ever that brings together industry leaders and thought leaders and was attended by more than 500 alumni and friends of the School. The More Than Ever tour's next stops are San Francisco on October 5 and Hong Kong on October 15. Tour stops in the spring will include Boston and Seattle.
More Than Ever, in alignment with the Power of Penn, is Wharton's historic $1 billion campaign that will position the School to meet the changing needs of students and the business world.