"It is time for us to consider the ways we can fulfill the goals and aspirations of promising teenagers. And what better way is there than by attaching your name to a scholarship fund that can serve this purpose in perpetuity?" This is how Wharton alumnus David W. Wu, WG'95 frames his call to action for fellow alumni to also become scholarship donors who will assist deserving, talented undergraduate students.
Wu, Managing Director of DVA Inc. and a member of the Penn Undergraduate Financial Aid Leadership Committee (UFLC), recently made a generous contribution to a UFLC challenge fund and uniquely increased his philanthropic support of the existing David and Jocelyn Wu Scholarship Fund, which was established in 2016. The Wu Scholarship has a first preference of supporting international students at Wharton. Wu chose to increase his support for his scholarship because he was inspired by seeing his first scholarship recipient grow and prosper at the School.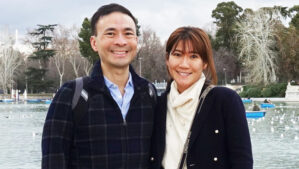 This inaugural student, Munashe E. Mandizwidza, W'20, who is from Zimbabwe, met with David at every undergraduate scholarship celebration. Wu had been planning to attend Munashe's graduation and meet his family until the coronavirus lockdown halted those plans.
"I have gotten to know Munashe quite well during his four years at Wharton, watching him advance in his studies and transform into the poised individual he is today," Wu said. "I hope he has found my counsel and advice useful as he now embarks on his career. Circumstances may change, but he and I both know that hard work and perseverance yield promising results."
Wu added that he and Jocelyn increased the size of their endowed scholarship to allow them to provide as much aid as possible to deserving undergraduate students — and to provide greater flexibility to the University to make its allocations.
"I know how valuable a Wharton education is in terms of providing a platform to life's many opportunities, he said. "We wanted to maximize the impact we can have in making this same experience available to gifted individuals who otherwise would not be able to afford their education."
Learn more about becoming an endowed scholarship donor.