Successful donor challenge celebrates Wharton's founding and future
From Our Founding to Our Future: Part of the More Than Evercampaign this year included a mini-campaign — a challenge to increase the number of leadership donors to The Wharton Fund, the School's annual giving fund that shapes Wharton on campus and around the world.
The Benjamin Franklin Society $1 Million Challenge successfully concluded June 30 and raised an additional $1 million to support Wharton students, faculty, and alumni.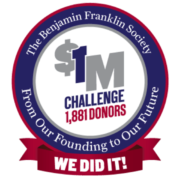 Nineteen leadership donors banded together and put up a combined $1 million with one condition — that The Wharton Fund attract at least 1,881 BFS donations, in recognition of the School's founding year.
Wharton supporters helped meet and exceed that goal with an increase of more than 200 donors from the previous year.
"[Being a challenger] is my appreciation of my Wharton experience and recognition of the key role The Wharton Fund plays that makes it an important commitment for my family," said Tom King, WG'89.
An increase in BFS-level donors has outsized impact: gifts of $2,500 ($1,000 for young alumni) and above make up more than 85 percent of total Wharton Fund giving. That means more funds to support experiential learning like Global Modular Courses and the robust MBA student life for which Wharton is known.
"Alumni should contribute because it's a way of giving back," said BFS donorMerritt Brown, WG'74. "For me, Wharton was a game-changer. A life changer."
Our work isn't over: Although the BFS Challenge successfully closed on June 30, you can still be a part of the More Than Ever campaign by contributing to The Wharton Fund.