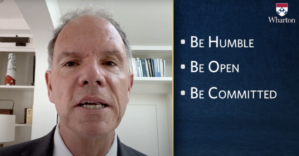 Virtual 2020 graduation ceremonies for all Wharton classes — undergraduate, MBA, executive MBA, and doctoral — went ahead in spite of the COVID-19 crisis. For the first time in the School's history, the ceremonies were not held in person.
Dean Geoffrey Garrett congratulated the Class of 2020 and offered the graduates some words of advice on being effective leaders in uncertain times. The dean said, first, be humble because no one has all the answers. Second, be open and able to unpack complexity simply—not simplistically, and third, be committed because today's world demands no disconnect between its leaders and the led.
Each of the four virtual ceremonies heard from classmates and faculty who reflected on the graduates' accomplishments — and on the uniqueness of the virtual ceremonies.
Undergraduate Class President Karim El Sewedy, Undergraduate Class President, encouraged his classmates to give back wholeheartedly and purposefully; struggle by taking the opportunities that build character; reflect by digging deep and being vulnerable.
Wharton MBA student speaker Sheyda Bautista-Saeyan reflected that during her time at Wharton risk taking became exciting. She encouraged her classmates by saying, "We have what it takes. Our two years made sure of that."
For the Executive MBA ceremony, guest speaker David M. Knott Professor of Management, Nicolaj Siggelkow unpacked one of his favorite quotes, attributed to the Roman philosopher Seneca, "Success is when smart planning, hard work, and good luck meet opportunity." He explained a Wharton education provides the tools to do smart planning and that the graduates will have already proven they can work hard by earning a Wharton degree. He then wished them "all the good luck you need when you meet opportunity."
For the doctoral graduation, Nancy Zhang, Vice Dean of the Doctoral Program, shared three hopes for the graduates: "That you will soon be able to work in a real office, and you will meet good mentors, good colleagues, and new friends; you will be able to come back and visit us soon, to once again take a stroll down Locust Walk; and, most of all, I hope that whatever comes your way, you will face it with optimism."
Visit Wharton's 2020 Graduation page to view all the ceremonies.