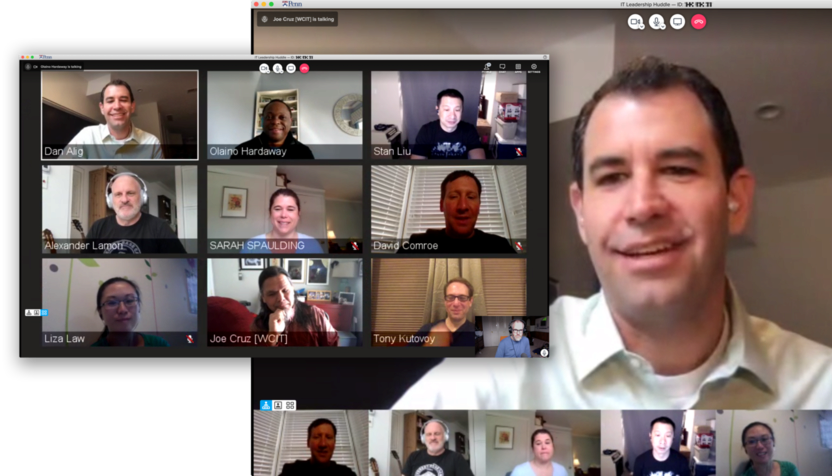 In response to the COVID-19 pandemic, all instructional and administrative operations of the Wharton School moved online in what felt like a heartbeat.
"I am so proud of everyone who accomplished this enormous task," said Dan Alig, who as Wharton Computing's Chief Information Officer is responsible for delivering IT resources to faculty, students, staff, and alumni. "Every member of the team stepped up in a significant way."
Alig took us behind the scenes of the run up to, and roll out of, this essential transformation — and the numbers are dramatic:
Almost 600 course sections (undergraduate and graduate) required technical assistance beginning March 23, the first day of remote instruction.
Over 40 Executive MBA course sections are being taught online with technical assistance provided by Wharton Computing.
Synchronous classes, taught by 250 professors, range in size from small discussion groups to lectures with 140 students.
Supported the online launch of the largest course in Wharton history, "Epidemics, Natural Disasters, and Geopolitics: Managing Global Business and Financial Uncertainty," which focuses on leadership during the pandemic, with over 2,000 enrollments from across the University.
In addition, there are over 5,000 synchronous learners from 93 countries in more than 2,000 cities and spanning 10 million miles in virtual travel each week — all calculated by Wharton's virtual meeting platform, which estimates the distance between endpoints for each meeting.
Both Wharton's technology capabilities and faculty flexibility with teaching methods are enhanced by donor support of the School's core operations, notably through The Wharton Fund. Because of these investments, Wharton Computing had a strong level of preparedness.
"We had strategized about what things would look like. For example, if Huntsman Hall went offline or something altered the campus," Alig said. "We consistently planned for mission continuity — but never imagined we'd be operating at this scale for this long."
Since the onset of MOOC courses at Wharton in 2012, Wharton faculty and students have grown adept at using remote classroom technology. Alig said due to that early adopter experience, and because the school had robust technology resources already in place that are familiar to faculty, staff, and students, this crisis crossover has not been as stressful as it could have been for users.
"There have been some bumps along the way, but we are getting positive feedback from faculty and students," he added.