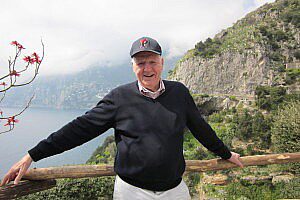 Robert A. Natiello, an accomplished advertising executive, award winning author, songwriter, and patron of the arts died on July 3rd in Cottonwood,AZ. He was 88 and lived in Sedona, Arizona.
The cause was complications of heart and lung disease.
In his 30 years at New York based advertising agencies, including BBDO and Compton, Mr. Natiello created national marketing campaigns for Fortune 100 companies such as General Electric, DuPont, Procter and Gamble, and US Steel. He received the coveted EFFIE award for marketing effectiveness, honoring his work on the first home smoke alarm, made by General Electric.
Later in his career, as marketing director of Coldwell Banker SchlottRealtors in NJ, he produced New York's first weekly real estate television series "Home Buying Made Easy" and New Jersey Cable Television's number one business program, "Real Estate and You."
Mr. Natiello attended Brooklyn Preparatory High School in Brooklyn, NY, and after graduating from Villanova University in 1952, joined the United States Marine Corps. Following his honorable discharge as a First Lieutenant, he earned an MBA from the Wharton School at the University of Pennsylvania. He lived in Wyckoff, NJ for 36 years. In 1992, he was awarded Villanova's Alumni Medal for Outstanding Service to the University, the Alumni Association's Highest award. After moving to Sedona in 1996, he became deeply involved in supporting the arts, serving as a director, and later President of "Sedona Jazz on the Rocks" where his efforts raised tens of thousands of dollars for Arizona's school age musicians. He also served as President of the Northern Arizona Opera League.
In his later years, Mr. Natiello became an accomplished writer and author. His short story "Dog Fight" was awarded first prize in Manhattan Media's 2009 Fiction Contest, and he received numerous awards from the Society of Southwestern Authors and the Arizona Authors Association. Four of his short stories earned a national Pushcart Prize nomination. His song lyrics have been heard on TV and radio commercials and recorded on gold albums and singles.
He is survived by his wife, Peggy, of 61 years; four sons, Joseph, of Westfield, NJ, Peter, of Lutz, FL, Michael, of Montclair, NJ, and Robert, currently stationed in Guyana, South America; a daughter, Anne, of Scottsdale, AZ; and 11 grandchildren.