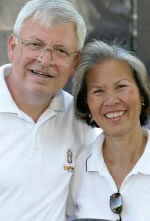 As he neared the completion of his undergraduate engineering degree, John H. Shaw III decided to apply to Wharton's MBA program to prepare for a career in business. He was worried, though, that a lack of funds would prevent him from attending. "I was ecstatic to learn that not only was I admitted, but that Wharton would also offer me a generous fellowship and loan package."
After graduating in 1969, John joined Exxon and embarked on a career in financial and operational controls that included assignments on six continents and some twenty years living overseas, mostly in Asia. He met his wife of thirty years, Joanna, in Malaysia. Now retired, John and Joanna lead active lives in Houston and especially enjoy fast-paced games of tennis.
The Shaws are great believers in the power of education and have financed the college educations of two nieces and a nephew at universities in the U.S. and New Zealand. Their generosity will also extend to Wharton through a substantial bequest that will one day create the John Hill Shaw III Endowed Fellowship Fund. "Wharton provided me with the financial aid necessary to attend," John said. "I was helped when I was young, and I want to reciprocate by helping future students. This is the best way I know to thank Wharton for giving me such a fine education and a good life."
Game, set and match for John and Joanna and for Wharton.