Master Chief Special Warfare Operator (SEAL) Edward Byers Jr., WG'21, has had a journey through failure, losses, and triumph. At the 2016 White House ceremony where Byers received his Medal of Honor, President Barack Obama quoted author William Faulkner in describing Byers's unique combination of grit, gallantry, and gratitude.
"I believe that man will not merely endure: he will prevail," said President Obama. "He is immortal, not because he alone among creatures has an inexhaustible voice, but because he has a soul — a spirit capable of compassion and sacrifice and endurance."
Now retired from the Navy, self-described "country boy" Byers did not know he was capable of great success, drive, or passion when he enlisted in the U.S. Marines at age 19 while living on his father's farm in Ohio. "I was not a standout at anything," said Byers. "I was on the soccer team but wasn't great, my grades weren't great, and I didn't see college as being in my future then." But there was an inner belief, he said, that he could "do something" greater than himself.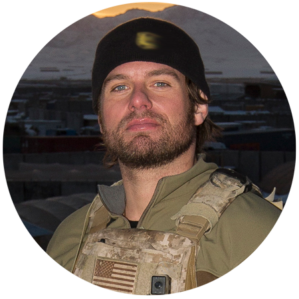 "I achieved becoming a member of the most elite special-operations unit in history," Byers said of his attachment to the Naval Special Warfare Development Group, also known as SEAL Team Six. He believes that, in a distinct way, being a graduate of Wharton's Executive MBA program is an elite membership as well. "Wharton was the only business school I applied to because it is the best of the best," he said, adding that the camaraderie and support within his WEMBA cohort made him feel as if he were with a new kind of SEAL team. Byers was a 2019 Tillman Scholar, for which he was awarded a fellowship, in addition to receiving the Behrman Family Fellowship, established by Grant Behrman, WG'77, and Shelley Behrman.
Although Byers's father was a World War II Navy veteran, Byers said his dad did not speak of his time in the service and that there was no expectation for Byers to follow in his father's footsteps. But Byers put in the effort to get in shape and enlisted in 1998. He initially served as a Navy Corpsman with 2/2 Marines Golf Co. 3rd Plt. until he attended Basic Underwater Demolition/SEAL training in 2002 — graduating class 242 — thus, beginning a special operations career that saw him serve 11 overseas deployments, including nine combat tours, deploying multiple times to Iraq and Afghanistan.
Over the course of his deployments Byers received five Bronze Star medals with a valor device, two Purple Hearts, and numerous other valorous awards and medals. He was awarded the Medal of Honor for "conspicuous gallantry and intrepidity at the risk of his life above and beyond the call of duty as a Hostage Rescue Force Team Member in Afghanistan in support of Operation ENDURING FREEDOM from 8 to 9 December 2012." But it could also be more plainly said that the Medal of Honor was awarded to Byers for the act of doing something greater than himself.
Byers was part of a SEAL hostage rescue team in Afghanistan that was on a mission to save a kidnapped American aid worker. [Watch Byers discuss the rescue mission.] During the mission, Byers withstood hand-to-hand combat, imminent mortal threat to his life, and the loss of a team member, but the rescue was ultimately successful. 
Today, Byers applies his Wharton education to his consulting and advisory firm, Minerva 6 Group, a Service-Disabled Veteran-Owned Small Business (SDVOSB) that specializes in cross-domain dominance between private and public sectors, and he has recently started as the COO of a tech venture called Trakr AI, which he describes as a "next generation personal knowledge engine for whatever you care about. Search once. Track forever."
Byers also spends some time on the speakers' circuit discussing his service to country and to others. He is a moving speaker and listening to him may be life changing, such is the power of his life experience.
Byers does not see himself as a hero so much as someone who can "get the job done," albeit, at an elite level. His modesty is both evocative and inspiring. The sign-off line at the end of Byers's emails states "strength through humility." He is, without doubt, living proof of those words.