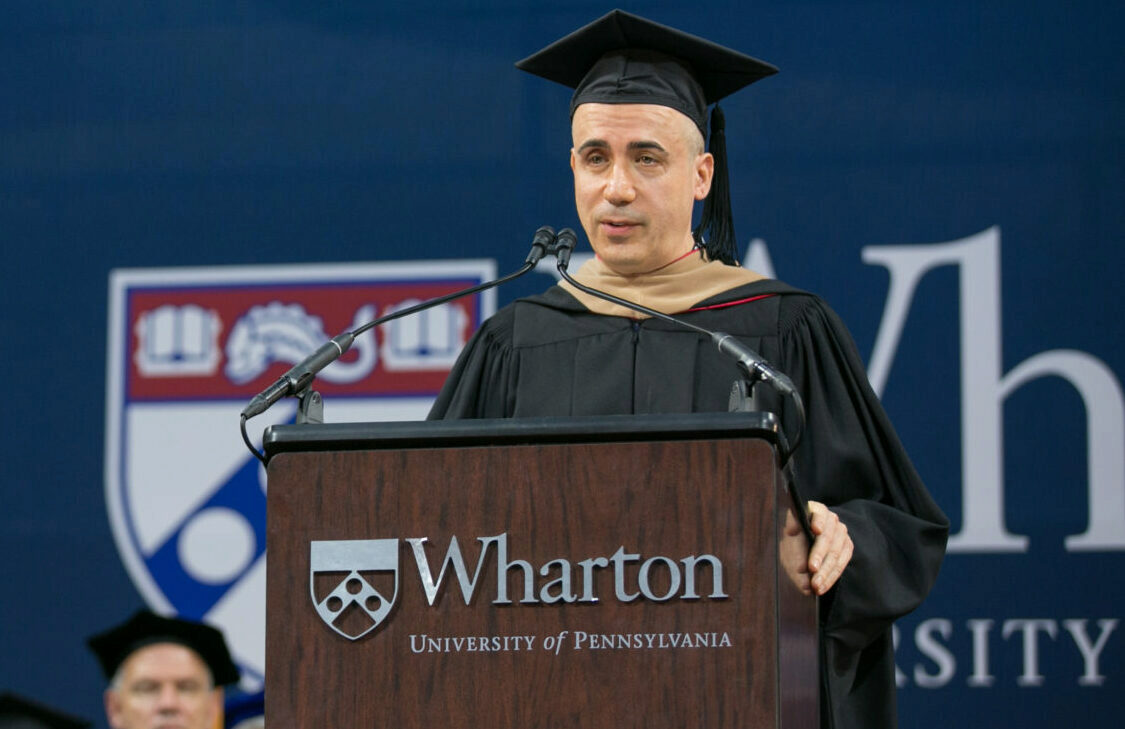 Philadelphia, PA, September 15, 2020 — Penn President Amy Gutmann and Wharton Dean Erika H. James are pleased to announce a $10 million commitment from the foundation established by Wharton MBA alumnus Yuri Milner and his wife Julia, to create the Friends of Israel MBA Fund. This new fellowship will provide full-tuition financial support to Israeli MBA students at the Wharton School of the University of Pennsylvania.
"Yuri's philanthropy has been as visionary as his distinguished business career," said President Gutmann. "With this exceptional gift creating the Friends of Israel MBA Fund, Yuri has created another forward-looking philanthropic initiative. We are profoundly grateful to Yuri and to the Breakthrough Foundation for supporting the graduate students who will become tomorrow's global business leaders."
The Friends of Israel MBA Fund will provide full tuition over the course of the two-year Wharton MBA program for a cohort of over sixty students over the next decade. The fellowship is dedicated to Israeli students – including those who have completed Israeli military service, attended an Israeli undergraduate institution, or worked at an Israeli company. The term funding will provide immediate support, enabling the School to reach, welcome, and support exceptional international students through offering generous financial aid packages.
"Israel has become a global center of innovation and Wharton has long helped train the top entrepreneurs and business leaders across the world. This is a perfect match," said Ron Dermer, Israel's Ambassador to the United States. "As a Wharton alumnus, I'm delighted that other Israelis will benefit from this unique experience."
"We are thrilled by the foundation's commitment to supporting the best and brightest MBA candidates from the Israeli community," said Dean Erika James. "As part of the Wharton family, Mr. Milner's dedication to welcoming international talent advances the School's mission to foster a diverse and inclusive student cohort benefitting the entire community."
This commitment marks a historic investment in student aid, which is a main area of focus for the Wharton School's More than Ever campaign. Fellowship funding provides the means for Wharton to provide competitive financial aid to the world's best and brightest students, breaks down barriers toward their attendance, and enables their full immersion into the Wharton MBA experience. International students like those who will benefit from the Friends of Israel MBA Fund bring their global experience to enrich the student community and ultimately the Wharton alumni network and business community at large.
"As a former international student myself, I know the transformative impact that an education in America and at Wharton can have," said Mr. Milner. "Israel, too, has been an important home for me and my family, and our bond with the country remains strong. My hope is that this scholarship will support talented individuals to look beyond the horizon and pursue their vision of what the world can be, and that the state of Israel will benefit from the expertise in business and entrepreneurship that Wharton program graduates will bring back home."
Mr. Milner is an Israeli science and technology investor and philanthropist. He attended Wharton in the 1990s and went on to found DST Global, one of the world's leading technology investors, with a portfolio that includes some of the most prominent internet companies. Yuri and his wife Julia partnered with Sergey Brin, Priscilla Chan and Mark Zuckerberg, and Anne Wojcicki to launch the Breakthrough Prizes – the world's largest scientific awards, honoring important, primarily recent, achievements in Fundamental Physics, Life Sciences and Mathematics. In July 2015, together with Stephen Hawking, Yuri launched the $100 million Breakthrough Listen initiative to reinvigorate the search for extraterrestrial intelligence in the universe, and in April 2016 they launched Breakthrough Starshot – a $100 million research and engineering program seeking to develop a technology for interstellar travel. All these philanthropic initiatives are funded by the Breakthrough Foundation established by Yuri and Julia Milner. Mr. Milner was the keynote speaker at the 2017 Wharton MBA Graduation Ceremony. For more information visit www.yurimilner.com.
About the Wharton School
Founded in 1881 as the world's first collegiate business school, the Wharton School of the University of Pennsylvania is shaping the future of business by incubating ideas, driving insights, and creating leaders who change the world. With a faculty of more than 235 renowned professors, Wharton has 5,000 undergraduate, MBA, executive MBA, and doctoral students. Each year 13,000 professionals from around the world advance their careers through Wharton Executive Education's individual, company-customized, and online programs. More than 99,000 Wharton alumni form a powerful global network of leaders who transform business every day. For more information, visit www.wharton.upenn.edu.
About the University of Pennsylvania
The University of Pennsylvania, founded in 1740, is an Ivy League institution with a distinctive past. Its12 undergraduate, graduate, and professional schools are located in Philadelphia on an attractive urban campus that serves a diverse community of more than 20,000 students from throughout the nation and around the world.  Ranked consistently among the top universities in the nation, Penn has a longstanding reputation for excellence in graduate and professional education.