PHILADELPHIA, October 23, 2018 — At a dedication ceremony today, brothers Leonard A. Lauder, W'54 and Ronald S. Lauder, W'65 will join Penn President Amy Gutmann and Provost Wendell Pritchett to celebrate the remodeling of the building housing the Joseph H. Lauder Institute for Management & International Studies, which the brothers founded.
The building, now referred to as the Lauder Institute, was constructed in 1990 with support from the Lauder brothers in honor of their late father, Joseph. Their mother, Estée Lauder, founder of The Estée Lauder Companies Inc., was present at the original building's groundbreaking ceremony.
The Lauder Institute's rigorous joint degree graduate program integrates tailored arts and science course work, regional and global academic programs, advanced language study, and cultural immersion experiences. Students earn a combined MA in International Studies from the School of Arts and Sciences with an MBA from the Wharton School or a JD from Penn Law.
The entire building ­is now be dedicated to the Lauder Institute, with all four floors being remodeled. Among the changes will be a redesigned and expanded lobby and event space.
Renovations will be completed in fall 2019.
The makeover has been made possible by a generous contribution from Ronald Lauder, chairman of the Lauder Institute Board of Governors.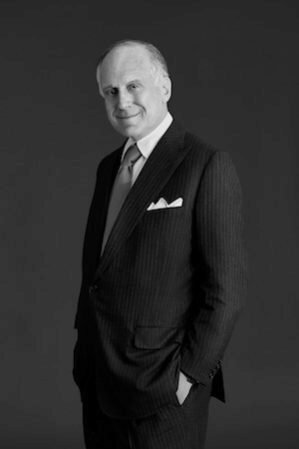 His gift comes at the end of the enormously successful Lauder Institute Challenge, a fundraising and engagement campaign that began in 2013 and raised more than $30 million for the Lauder Institute from some 1,000 alumni and friends. The Lauder family's visionary $15 million dollar-for-dollar match for every gift was instrumental to the challenge's success.
"The longstanding generosity of the Lauder Family is both legendary and extraordinary," said President Gutmann. "Ronald and Leonard made the Lauder Institute's creation possible decades ago and they have remained steadfast in propelling its bold mission forward. Ronald's leadership in expanding the program's footprint and encouraging alumni to engage more deeply in support of the Lauder Institute is nothing short of inspirational, to me and to so many others across the university and around the world."
"Leonard and I had a vision 35 years ago that Penn would teach students something we didn't have available to us — the opportunity to combine a business or law education with international studies," said Ronald Lauder. "Now 35 years later, with this renovation, our dream has its own home."
Added Leonard Lauder: "It's a special honor to be here and see the amazing progress of this renovation. I'm very grateful to Ronald for his incredible generosity and to everyone involved for their support. My brother and I founded the Lauder Institute 35 years ago to develop true global leaders; since then the program has grown and our graduates have thrived. We're excited to see what the next 35 years bring!"
"I am profoundly grateful to Ronald Lauder for his visionary investment in generations of global leaders," said Wharton Dean Geoffrey Garrett. "We are proud to have a dedicated structure for this dynamic joint-degree program in such an inviting and state-of-the-art facility."
Added Mauro Guillén, the Lauder Institute's Anthony L. Davis Director, "It's thrilling to envision the new Lauder Institute building and the impact it will have on the experience of our students and faculty. Our students will greatly benefit from new areas to gather and dine, which will foster the interdisciplinary and intercultural exchange that is the hallmark of this program."   
About The Lauder Institute
Founded in 1983 by Leonard and Ronald Lauder in honor of their father, the Lauder Institute provides a fully integrated business education to a new generation of leaders coming of age in a rapidly globalizing world. The program combines an MA in International Studies from the School of Arts and Sciences with an MBA from the Wharton School or a JD from Penn Law, preparing each class of 70 students to become successful, culturally fluent global business leaders.
About the Wharton School
Founded in 1881 as the first collegiate business school, the Wharton School of the University of Pennsylvania is recognized globally for intellectual leadership and ongoing innovation across every major discipline of business education. With a broad global community and one of the most published business school faculties, Wharton creates economic and social value around the world. The School has 5,000 undergraduate, MBA, executive MBA, and doctoral students; more than 13,000 participants in executive education programs annually; and a powerful alumni network of 98,000 graduates.
About the School of Arts and Sciences
The School of Arts and Sciences has established Penn as one of the world's leading research universities. The largest of Penn's academic divisions, the School is home to 27 departments that represent a full range of disciplines in the humanities, social sciences, and natural sciences.