Philadelphia, PA, March 28, 2017 — The Wharton School of the University of Pennsylvania is pleased to announce that Ken Moelis, W'80, WG'81, and Julie Taffet Moelis, W'81, have made a $10 million gift to establish the Ken Moelis and Julie Taffet Moelis Advance Access Program, a deferred admission opportunity that will provide a pathway to a Wharton MBA for highly-qualified Penn undergraduates whose academic and career interests expand traditional notions of business education.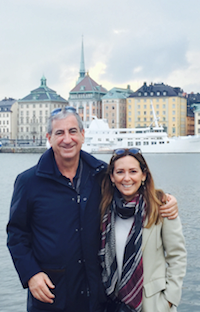 The program adds to the School's existing Submatriculation Program with a deferred-enrollment plan for the most competitive candidates, enabling them to apply and gain guaranteed admission as undergraduates, work for several years, and return to Wharton for their MBA. It opens access to all Penn undergraduate students who aspire to set the stage early for their advanced education and highly successful careers. Ultimately, the program will expand to allow applications from the best undergraduate institutions across the U.S. and around the world.
"We strive to adapt and continue to draw the best and the brightest to Wharton, preparing them to become leaders and trendsetters in today's rapidly changing environment," said Wharton Dean Geoffrey Garrett. "Ken and Julie are helping us do just that – reimagining the Wharton Submatriculation Program so that it provides a new route to the Wharton MBA for outstanding undergraduates from all academic backgrounds, one that nurtures exploration, strategic risk-taking, and discovery, and enables our students to use their business education to change the world."
In the Moelis Advance Access Program, undergraduates may apply to the MBA Program during their senior year and, for those admitted, enter the workforce for two to four years before returning to Wharton for graduate school. During this time, students will be empowered to pursue job opportunities in a range of fields, including those that capture their greatest interest and extend beyond the conventional definitions of business. They will also engage in the program and their fellow future classmates through professional development, mentoring opportunities, and social events.
"In my personal experience as a submatric student, and now as CEO of a firm that recruits top MBAs from across the country, it is clear that ambitious students with unique aspirations do not always benefit from the one-size-fits-all track for MBAs," said Mr. Moelis. "Julie and I are excited to unlock the potential of these students – to help them consider an expanded view of the fields that need their leadership and gain valuable, practical experience after completing their undergraduate degree and before starting their MBA."
Mr. and Mrs. Moelis' generosity will also provide financial assistance for selected students in this premiere, life-changing program. Students in the program will be considered for a $10,000 fellowship each year during the two-year full-time MBA program in additional to other financial aid awards.
The Moelis Advance Access Program helps Penn retain exceptional students from across the University – the College of Arts and Sciences, the School of Engineering and Applied Science, the School of Nursing, the Wharton School, and coordinated dual-degree programs – to continue their graduate degree at Penn through the MBA program. In the future, adding to the Penn students in the program, it will grow to provide an amazing and elite opportunity for outstanding students from other undergraduate institutions as well.
"Increasing access to a Penn education is a pillar of the Penn Compact 2020, and I am so grateful to Ken and Julie for creating innovative ways to expand educational opportunity through their amazing commitment," said President Amy Gutmann. "Ken and Julie are encouraging students to think early about their graduate degree, venture into diverse fields after graduation, and bring these robust, interdisciplinary experiences to their Wharton MBA journey."
The results lie in the future generations of Moelis Fellows, the proud graduates who promise to shape a range of important and emerging industries – from analytics, to health care, and beyond. Students who participate in the new deferred-enrollment plan as well as those who complete their BS/MBA in five years as part of the existing Submatriculation Program will share the title, support, and distinction of being Moelis Fellows.
Mr. Moelis is Founder, Chairman and CEO of Moelis & Company, a global independent investment bank. He is a member of Wharton's Board of Overseers — a board he has served on for over a decade — and a Trustee of the University of Pennsylvania. A graduate of Wharton's existing Submatriculation Program, Mr. Moelis earned his undergraduate degree in 1980 and his MBA in 1981. Mrs. Moelis is also a Wharton graduate, earning her undergraduate degree in 1981. She and Mr. Moelis are proud Wharton parents.
Click here for more information about the Ken Moelis and Julie Taffet Moelis Advance Access Program.
About the Wharton School
Founded in 1881 as the first collegiate business school, the Wharton School of the University of Pennsylvania is recognized globally for intellectual leadership and ongoing innovation across every major discipline of business education. With a broad global community and one of the most published business school faculties, Wharton creates ongoing economic and social value around the world. The School has 5,000 undergraduate, MBA, executive MBA, and doctoral students; more than 9,000 annual participants in executive education programs; and a powerful alumni network of more than 95,000 graduates.