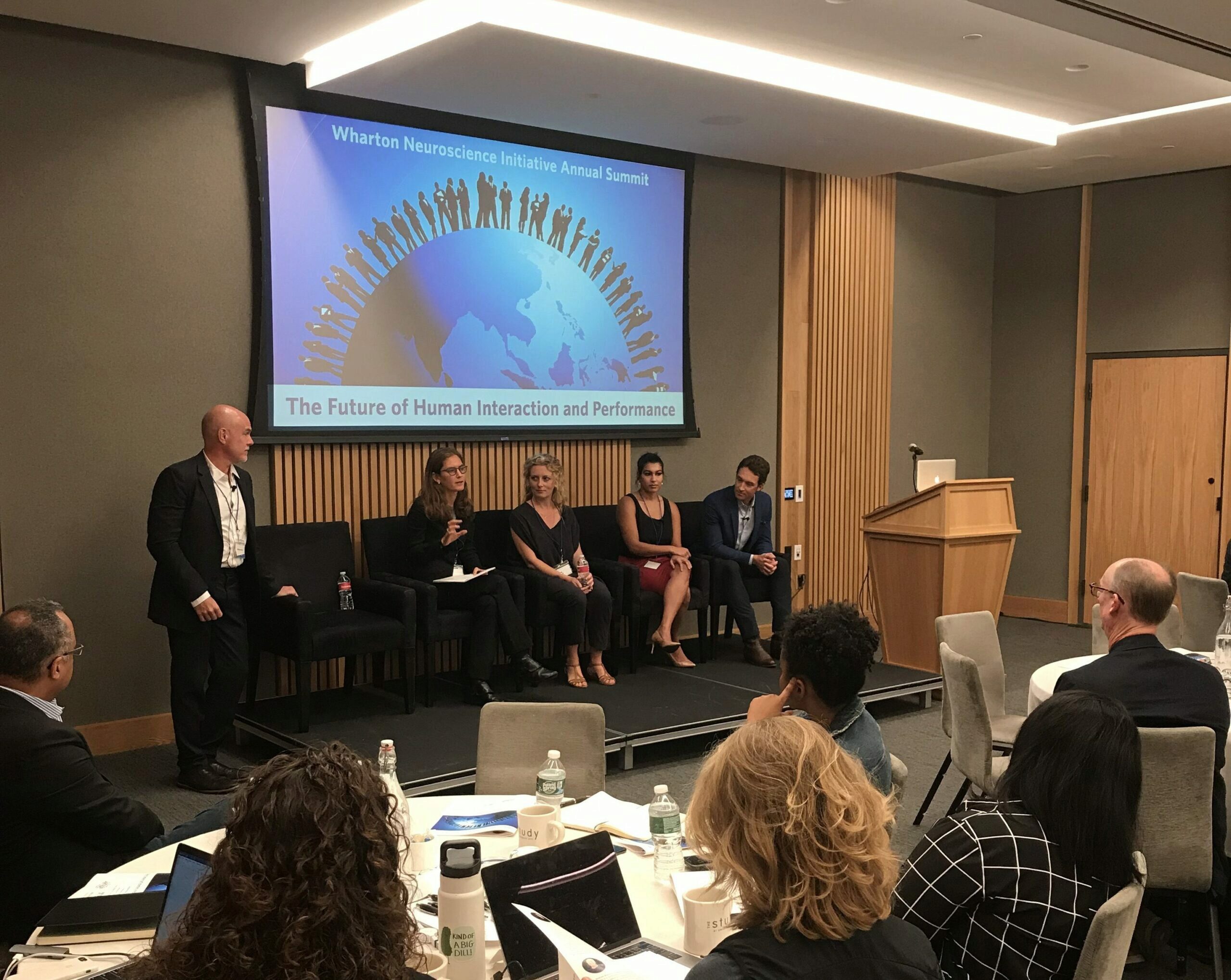 Much of our understanding of team and interpersonal dynamics in business comes from intuition, experience, and common wisdom. At Wharton and Penn, a growing community of academics, students, and industry leaders is looking to neuroscience to confirm some of those assumptions and reveal new insights about business using data from the human brain.
On September 13, the annual Wharton Neuroscience Initiative (WiN) Summit brought this community together to explore the future of human interaction and performance. Since the first summit just three years ago, attendance at this daylong event has more than doubled, signaling increasing interest in the topic and highlighting Wharton's growing role as a pioneer in using brain science to reinvent decision-making in business.
Some attended because they are studying neuroscience or putting it into practice in their organizations. "I think many people came just because they are genuinely and personally interested and want to learn more," said Dr. Elizabeth Johnson, WiN executive director, senior fellow, and summit organizer alongside WiN faculty director Dr. Michael Platt and WiN coordinator Kate Molt.
Speakers shared dozens of insights and findings, including:
The brain melds past, present, and future: Dr. Uri Hasson of Princeton University noted that we experience the present moment across different timescales of the brain, which fuses the recall of past events with the imagination of new events
It is possible to be lonely when you are not alone: Dr. Suzanne Dikker of New York University found that if people do not have a mutual, mental connection, they may feel more isolated in the company of that person than if they were actually alone.
Several of the neuroscientists at the summit have found that when people communicate positively with each other, they are literally like-minded: their brains exhibit joint, temporally coupled response patterns (synchrony).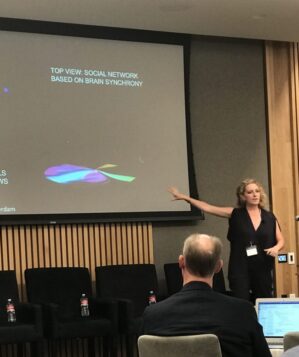 "The summit was an incredible gift to researchers and practitioners seeking insights from the latest neuroscience research to advance human performance and better solve everyday societal problems," said Jonathan Kirschner, CEO and founder of AIIR Consulting, one of WiN's corporate partners. "Taking eight members of my team out of work for the day was not a small decision, though the immersive experience has already yielded concrete ideas for how we can advance our own applied leadership development and team effectiveness services for our clients."
Even after a program packed with sessions focusing on leadership, cooperation, and competition, attendees remained well after the summit to discuss what they learned and explore new collaborations.
"What was so exhilarating about the summit for me was seeing Penn's continued leadership in both cross-disciplinary commitment and collaboration with global experts," said Alyssa Dver, W'87, who is Chief Confidence Officer at the American Confidence Institute.
That interface was key for many of the students attending the summit, which shined light on the diverse career paths in business that can be pursued with knowledge of neuroscience. Indeed, the list of speakers included industry figures from Facebook, the U.S. Army, RAND, and Cirque du Soleil. Academics from Stanford, Dartmouth, and the University of Zurich joined the many WiN faculty affiliates from across several Penn schools.
This collaboration among researchers from disparate disciplines is how WiN is leveraging Penn's academic breadth to apply neuroscience to business. "As much of the discussion was about interpersonal brain synchronicity," Dver said, "I am confident that my Penn pride was felt by others in the room!"
The Wharton Neuroscience Initiative is a key facet of the More Than Ever campaign's drive to power insights to reinvent decision-making. Learn more about how faculty director Michael Platt and WiN are building better business through brain science.