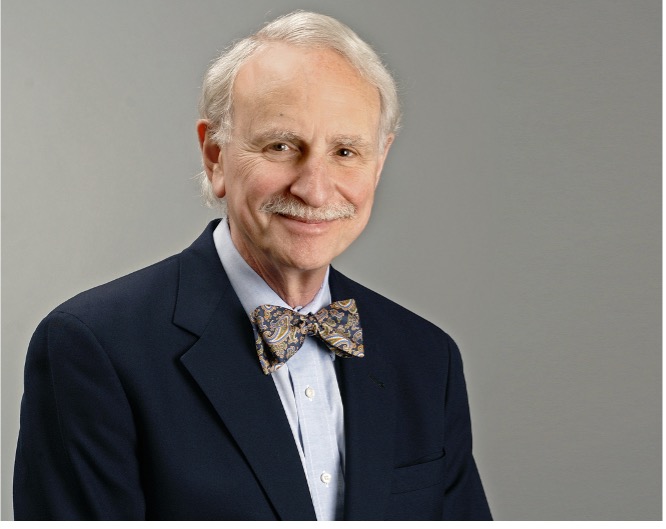 It is with great sadness that the Wharton School announces the passing of Stephen J. Kobrin, emeritus professor of multinational management, who died suddenly on May 6, 2022. He was 83.
With an influential career spanning nearly six decades, Kobrin made significant contributions in his field through his scholarship, teaching, leadership, and professional activities. He was an expert on globalization and international business, wrote dozens of highly cited research papers and books, taught both graduate and undergraduate students, was a past chair of the management department, served twice as director of The Joseph H. Lauder Institute of Management and International Studies, and launched Wharton Digital Press, the school's digital publishing arm that later became Wharton School Press.
"Steve was a highly engaged member of the Wharton community whose involvement was extensive and impressive," Deputy Dean Nancy Rothbard said. "He approached everything he did with his whole heart and soul, and we will miss him greatly."
Kobrin earned his bachelor's degree in engineering from Rensselaer Polytechnic Institute in 1960, MBA from Wharton in 1961, and PhD in international business from the University of Michigan in 1975. He worked as a brand manager for Procter & Gamble in the U.S. and Venezuela, and he was on faculty at the Massachusetts Institute of Technology and New York University before joining Wharton in 1987. He was a fellow of the Academy of International Business and served as a president, and he was a longtime fellow at the annual World Economic Forum in Davos, Switzerland.
Kobrin retired in 2018, taking on the role of emeritus professor and pursuing hobbies — including learning to play piano at the age of 80.
His family and closest colleagues described Kobrin as a Renaissance man who had vast interests and a voracious appetite for learning. He followed politics and current events, loved to travel and hike, was an early adopter of technology, enjoyed amateur photography, participated in book clubs, and read a variety of nonfiction, although he made the occasional exception for a good spy novel or mystery.
"He was interdisciplinary and thrived on that. His strong sense of intellectual curiosity was wonderful," said Carol Fixman, his wife of 32 years. "He had an engineering mind, and an engineering mind solves problems. They approach things logically and step by step get it done. But he also had a creative mind, and that fed into his research."
His research was well-regarded across business and academia. Wharton Management Professor Witold Henisz knew Kobrin through his research before the two ever met on campus. Henisz was writing his dissertation in the mid-1990s and framed much of it around Kobrin's earlier papers on the political risk faced by private companies when governments unexpectedly change laws or policies.
"His work on political risk put a pause on a lot of academic research," Henisz said. "He was critical of the work that had been done, saying it didn't answer the important questions. It took a long time for people to rise to the challenge that Steve laid down. He raised the bar."
Henisz chose one of Kobrin's last papers, "Bricks and Mortars in a Borderless World: Globalization, the Backlash, and the Multinational Enterprise," as required reading for all his MBA students.
"There's a real question on whether the postwar period of globalization will continue, and this piece tackles that without being pollyannish, without being doom and gloom," he said. "It's realistic, academically rigorous, and practically insightful — it was Steve."
Henisz said that when he started at Wharton in 1998, Kobrin was among the first to make him feel welcomed. Kobrin and Fixman invited Henisz and his wife out to dinner at a popular seafood spot in Philadelphia. Later that year, the professors attended a conference in Vienna together.
"It was a real bonding experience," Henisz said. "He was an intellectual who had very high standards in terms of his research, his expectations, but was also a warm and collegial colleague who wanted people to have a sense of community and respect and understanding for each other and the institution."
Shannon Berning also recalled the conviviality of her mentor and former boss who hired her at Wharton Digital Press in 2011. His birthday was a week before he died, and they had planned to meet soon after for lunch.
"I'll miss the regularity of our contact and hearing what new thing he's been learning about and sharing updates about what we're doing with the press, which he was always supportive of long after he left," she said.
Berning, who is now director and publisher of Wharton School Press, credited Kobrin for his strategic vision and leadership. Always engaged with technology, he saw the potential of digital publishing to push Wharton's content to a global audience. Within five months of launching, Kobrin released Wharton's first e-book: The Leader's Checklist: 15 Mission-critical Principles by management professor Michael Useem. The Press offered the book for free in the first week, and nearly 30,000 copies were downloaded through various retailers. The book made The Washington Post's 2011 list of best leadership books, and a 10th anniversary edition was issued last year.
"A lot of what he did went against the grain," Berning said. "Why would you give away 30,000 copies? I can't believe for a second that it hurt sales. It actually helped build awareness for the book."
She said Kobrin cared about his staffers and helped them seek out opportunities, protected and nurtured young faculty members, especially ones without tenure, and always inspired those around him to keep moving forward.
"He had real follow-through and strong relationships with faculty, and if you want to publish books you have to have those strong relationships," Berning said. "For the first time, Wharton was acting as publisher and really doing what legacy publishers were challenged to do, which was lead with the digital technology that was coming out at the time."
On campus, Kobrin was known as the professor who wore a bow tie and commuted to work on a folding bike. He had three children from two previous marriages, Tom Kobrin, Katherine King, and Jennifer Kobrin, and three grandchildren, Melissa Kobrin, Robert Kobrin, and Max Kobrin Bullard. When he and Fixman married, she became an integral part of the family.
Fixman, who retired as the executive director of the nonprofit Philadelphia Education Fund, first met Kobrin when she was working for a college accrediting agency. Kobrin was at NYU at the time, and she consulted with him over the phone to learn more about international business research and curricula. A year later, they met while she was on a work trip to New York City. Their professional relationship grew into a friendship, then a courtship. Fixman, a Midwesterner from St. Louis, and Kobrin, a born and bred New Yorker, often teased each other about their regional culture differences.
"I loved him very much, so I'm going to miss him as a partner. I'll just miss his entire personality," she said. "He was thoughtful and open-minded, and he had so much integrity. He had strong values and they were good values. And he was just a very sweet person."