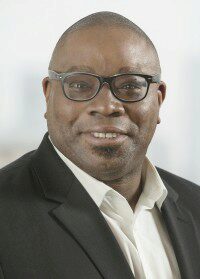 Philadelphia, PA, January 31, 2018 — Eric Tchetgen Tchetgen has been named the inaugural Luddy Family President's Distinguished Professor at the Wharton School of the University of Pennsylvania. Thomas M. Luddy, WG'76 and Janice Hotra Luddy, WG'77 generously endowed the Luddy Family President's Distinguished Professorship for faculty appointments at the Wharton School with a gift of $3 million.
The appointment, announced by Penn President Amy Gutmann and Wharton Dean Geoff Garrett, will be effective January 1, 2018.
Professor Tchetgen Tchetgen comes to the University of Pennsylvania from Harvard University, where he has served since 2008 as Professor of Biostatistics and Epidemiologic Methods with joint appointments in the departments of Biostatistics and Epidemiology at the T.H. Chan School of Public Health. He researches infectious diseases, including HIV/AIDS, and the role of genetic and social factors in the patterns, causes, and effects of public health. Professor Tchetgen Tchetgen has received grants from the National Institutes of Health and the Centers for Disease Control.
"Professor Eric Tchetgen Tchetgen is a leader in his field, with a distinguished record of engagement in public service," said Penn President Amy Gutmann. "I am profoundly thankful for Tom and Janice Luddy and their gift to establish the Luddy Family President's Distinguished Professorship. It has allowed us to recruit an eminent faculty member in Professor Tchetgen Tchetgen to do important work across disciplines. His innovative research and teaching will tackle pressing challenges in public health and advance Penn's commitment to put knowledge in service to the world."
"I am delighted to welcome Professor Eric Tchetgen Tchetgen to Wharton and immensely grateful to Tom and Janice for making this stellar appointment possible," said Wharton Dean Geoff Garrett. "With Wharton's newly expanded focus on data analytics, this is the ideal time for Professor Tchetgen Tchetgen's biostatistical research to empower effective decision making on public health for the benefit of society."
Tom Luddy said, "Janice and I were thrilled to make this gift in support of Wharton's outstanding faculty, and even happier to know that Professor Tchetgen Tchetgen will make such important contributions to improve public health through data analytics."
Mr. Luddy has worked for 41 years at J.P.Morgan Chase & Co., holding numerous key positions in the firm, including managing director, J.P.Morgan Asset Management; global head of equity; head of equity research; and chief investment officer. Mr. and Mrs. Luddy are Wharton parents and have generously supported The Wharton Fund for four decades.
President's Distinguished Professorships enable the University of Pennsylvania to recruit and retain eminent faculty members with research and teaching expertise in areas identified by the president as high priorities for the Penn Compact 2020.
About the Wharton School
Founded in 1881 as the first collegiate business school, the Wharton School of the University of Pennsylvania is recognized globally for intellectual leadership and ongoing innovation across every major discipline of business education. With a broad global community and one of the most published business school faculties, Wharton creates economic and social value around the world. The School has 5,000 undergraduate, MBA, executive MBA, and doctoral students; more than 9,000 participants in executive education programs annually and a powerful alumni network of 96,000 graduates.